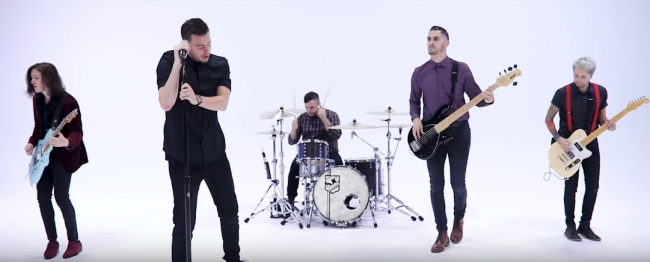 The band sings of what it feels like to end a relationship when love isn't gone yet
October 16, 2018
A young Detroit pop punk act Boys Of Fall has released a bright new music video and single 'Heartbreaker.' The song is taken from the band's upcoming record, Better Moments. The album will be out October 26 via InVogue Records. Check out the track 'Heartbreaker' below.
When your relationship ends, it's often hard to see the bright side of it. And that's exactly what Boys Of Fall sing about in the new track. "I'll go ahead and show you how bad it could be / When everything you love is stripped away." You can relate to the lyrics of 'Heartbreaker' if you didn't want to love someone but you still did.
More: Between You & Me miss good old times in new song 'Friends From '96'
Boys Of Fall are currently on the road – see their October and November US dates and locations below as listed by Alternative Press.
What do you think of the young Detroit band and their new track? Write your comments below and stay tuned with AlteRock Facebook and Twitter to never miss on the news about your favorite alternative music!
Boys Of Fall Upcoming 2018 Tour Dates:
10/20 – Indianapolis, IN @ Hoosier Dome*
10/21 – Columbus, OH @ Donatos Basement*
10/23 – Lakewood, OH @ Mahalls Locker*
10/24 – Cheviot, OH @ Legends Bar & Venue*
10/25 – Nashville, TN @ The End*
10/26 – Chicago, IL @ Subterranean
10/27 – Detroit, MI @ The Loving Touch
10/28 – Pittsburgh, PA @ Smiling Moose
10/29 – Richmond, VA @ Canal Club
10/30 – Philadelphia, PA @ Creep Records
10/31 – Brooklyn, NY @ Gold Sounds
11/01 – Long Island, NY @ Revolution Bar
11/02 – Flemington, NJ @ All Star Music Empire
11/03 – Scranton, PA @ Irish Wolf Pub
11/04 – Fayetteville, NC @ Drunken Horse Pub
11/05 – Nashville, TN @ The Back Corner
11/06 – Orlando, FL @ Wills Pub
11/08 – New Orleans, LA @ Southport Hall
11/09 – Denton, TX @ Andy's Bar
11/10 – Austin, TX @ Dirty Dog Bar
11/11 – Odessa, TX @ The Club
11/12 – El Paso, TX @ Rockin' Cigar Bar & Grill
11/13 – Denver, CO @ Globe Hall
11/15 – Flagstaff, AZ @ Firecreek Coffee
11/16 – Grover Beach, CA @ Mongos Salloon
11/17 – Tulare, CA @ Barmageddon
11/18 – Fresno, CA @ Full Circle Brewery
11/19 – Anaheim, CA @ Chain Reaction
11/20 – Mesa, AZ @ Rebel Lounge
*with Abandoned By Bears