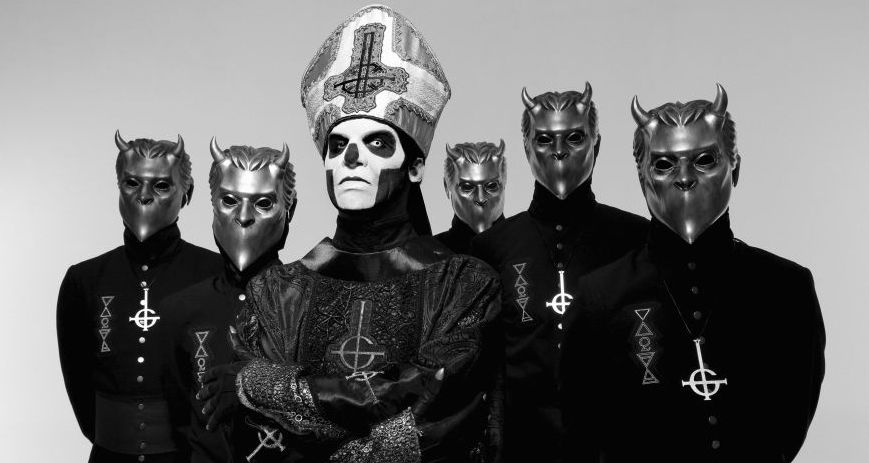 Ghost are proud to be the first Swedish rock band nominated for a Grammy, drop a video to share their reaction
February 3, 2016
Ghost keep doing all kinds of support for their current Grammy nomination for the 58th annual Grammy Awards. The ceremony will take place on February 15 at Staples Center in Los Angeles and broadcast on CBS at 8 p.m. ET. Ghost is nominated for track 'Cirice' in the category Best Metal Performance, featured on the band's latest album, Meliora.
This time Ghost put up a video 'My First Grammy Nomination' on Grammy.com, where a Nameless Ghoul shared their reaction to the nomination:
"Being nominated for a Grammy is obviously a big honor for any band or artist — obviously, ourselves included. Especially for us, as a Swedish band, it feels extra honoring, I guess. Especially us maneuvering in the rock genre, where traditionally it's usually British or American bands.
"To my knowledge, we are the first Swedish rock band to ever be nominated for a Grammy, which is also the reason why when we got the news that we were nominated, I just got a text saying, 'You're nominated for a Grammy.' In Sweden, we have another prize called Grammis, which, internationally, is referred to as the Swedish Grammy. So when I got the text, I told my friend next to me that we were nominated for a Grammis. So it took like an hour later until I actually got it confirmed that they were actually talking about a Grammy, not a Grammis, which was a very mind-boggling experience. So winning or not winning, just being nominated is a big honor, and for us it's definitely a sign of recognition that we can suck on for the rest of our lives."
The other four nominations for Best Metal Performance are as follows:
August Burns Red – "Identity"
Lamb Of God – "512"
Sevendust – "Thank You"
Slipknot – "Custer"
Grammy Awards 2016 received more than 21,000 submissions over a 12-month registration period, which started October 1, 2014 and ran through September 30, 2015.
Meliora hit No. 8 on The Billboard 200, with first-week sales exceeding 29,000 units, followed by the No. 28-peaking 'Infestissumam', which sold 70,000 units since its release in 2013.
Ghost are currently on their European tour leg, wrapping up March 2 at London's Palladium. The group will afterwards head to U.S. this spring for a headlining tour, beginning on April 13 in Montclair, NJ. See the rest of the band's European tour below.
Share your thoughts in the comments, and join Alterock Facebook and Twitter to stay tuned on the news about your favorite rock bands!
Ghost European Tour Dates:
Feb 05 – Le 106 – Rouen, France
Feb 06 – La Sirene – La Rochelle, France
Feb 08 – La Belle Electrique – Grenoble, France
Feb 09 – Le Rocher De Palmer – Argentan, France
Feb 10 – La Paloma – Nimes, France
Feb 12 – Deposito – Pordenone, Italy
Feb 13 – Graz – Graz, Austria
Feb 17 – Batschkapp – Frankfurt, Germany
Feb 18 – Garage – Saarbrücken, Germany
Feb 19 – Reithalle – Dresden, Germany
Feb 20 – X – Herford, Germany
Feb 21 – Schlachthof – Bremen, Germany
Feb 25 – Baltiska Hallen – Malmö, Sweden
Feb 26 – Svandammshallarna – Uppsala, Sweden
Feb 27 – Studentersamfundet – Trondheim, Norway
Mar 01 – 013 Main Hall – Tilburg, Netherlands
Mar 02 – Palladium – London, United Kingdom