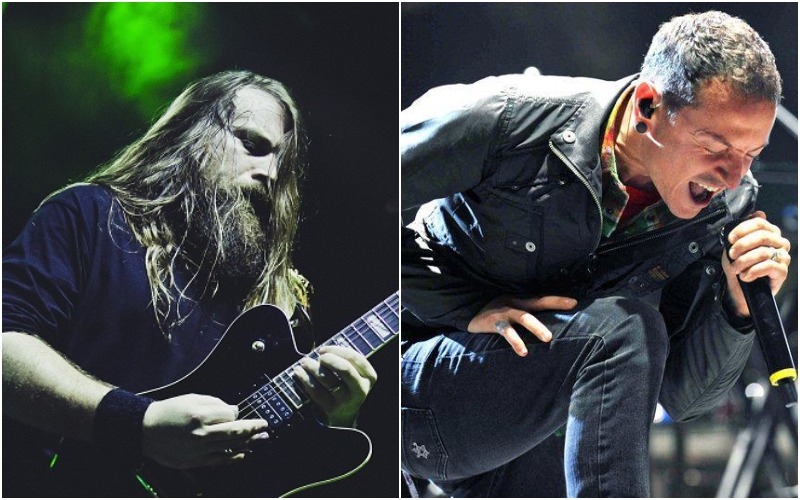 Chester Bennington and Mark Morton started a collab in spring 2017 but we still haven't heard it yet
October 29, 2018
When Linkin Park vocalist Chester Bennington took his life last July, the music world was shocked to its core. But there's still plenty of material the singer recorded in collaboration with other musicians that we never even knew existed.
One of such surprises is his collab with Lamb Of God guitarist Mark Morton, who has just announced we'll finally get to hear it! Linkin Park frontman worked with Morton in the spring of 2017, reports AltPress. In April the guitarist even teased the project so fans were all in wait. But back then the project wasn't assigned a release date, and the whole story just came to naught.
Until this past weekend. One fan asked Morton on Twitter whether we can hope to hear the collab after all, and the guitarist replied positively!
[quote align="center" color="#COLOR_CODE"]"Chester and I made some really cool music together that we were both SUPER stoked about. And you will hear it!" Morton wrote."[/quote]
Sounds KILLER too! 😉 pic.twitter.com/YbbYgB0BFy

— Mark Morton (@MarkDuaneMorton) April 12, 2017
More: KORN guitarist thanks LINKIN PARK fans for forgiveness after his angry comment on Chester's suicide
As of today, there's no announced release date known yet so keep your eyes on the updates from Morton and Lamb of God.
In other Linkin Park updates, the band and their fans had a special day to celebrate last week. October 24, 2000 was the day the world heard LP's iconic album Hybrid Theory. "The album that started it all. Hybrid Theory was released 18 years ago today," – tweeted the band.
The album that started it all. Hybrid Theory was released 18 years ago today. https://t.co/uC7H2KyZl9

— LINKIN PARK (@linkinpark) October 24, 2018
Which is your #1 song from Hybrid Theory? Let us know in the comments below! Don't miss the latest news about your favorite bands with AlteRock website and join AlteRock Facebook and Twitter to stay tuned for rock and metal news.