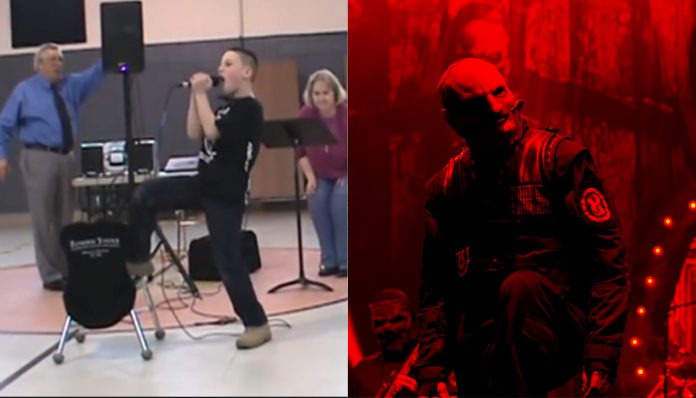 'The Devil In I' isn't an easy Slipknot song to sing but this schoolboy did his best
August 22, 2018
Remember how we shared that video of elderly people reacting to Slipknot a while ago? Guess what! Now you get to see how teachers and school administrators react to a 9-year-boy covering Slipknot live! And wait a second, the child is singing 'Devil In I' from Gray Chapter album, which means he was only five at the time of its release. What a young and determined fan!
According to MetalSucks, the unidentified schoolboy dared to perform the metal song at his school talent show. The young fan was obvisouly shaking like a leaf at the beginning and has to work on his stage presence but he did his best. The 9-year-old went on to step on a chair with his foot, grunting Corey Taylor's in-your-face parts of 'The Devil In I' and even encouraged the audience to support him. A future pro!
Soon we'll get some new tunes from Slipknot, as the band are currently working on their sixth studio album. While touring with Stone Sour, Taylor began writing new and very personal lyrics for the upcoming album. The singer says other bandmates were "blown away" when they heard the new texts.
More: Corey Taylor talks new Slipknot lyrics: "It's probably the most I've shared in years"
Be sure to check out this shy yet really brave school talent below and share your thoughts in the comments. Don't miss the latest news about your favorite bands with AlteRock website and join AlteRock Facebook and Twitter to stay tuned for rock and metal news.