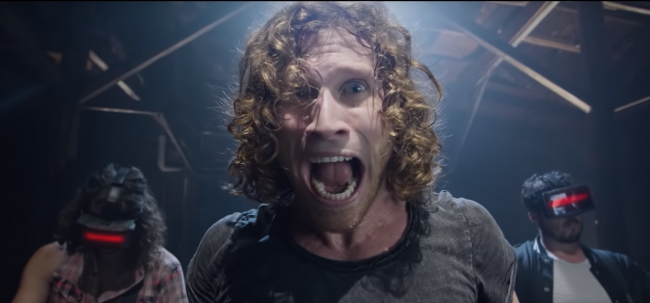 "More guns or less guns isn't the question," Nothing More point out in the politically-charged video
December 5, 2018
If there's one music video you can't miss this week, it's the clip for 'Let 'Em Burn' from Nothing More. The song is featured on the band's latest album, The Stories We Tell Ourselves. The visuals are acute, striking and thought-provoking, as the band draws our attention to mass shootings and questions why we get so polarized and dehumanized by politics. Watch the video below!
In 'Let 'Em Burn', we see people acting like machines programmed to kill, be it a priest or an office manager. Then it dawns on them what they've done and they stare at the gun, shocked and confused, as if awaken from the mass craziness. With this music video, Nothing More are spreading the message:
"Why are we killing each other?"
Hundreds of people have been killed in mass shootings over the past several years," the band wrote in the official statement. "Almost everyone has chosen the red team or the blue team and we're stuck in this mode where we fight over political problems instead of human solutions."
"More guns or less guns isn't the question," they add. "The real question is, why are we killing each other?"
More: Watch MUSE fight gremlins at school homecoming party in new music video for 'Pressure'
And Nothing More are also contributing to make this world focus more on treating people with mental problems. The musicians have joined forces with the organization To Write Love on Her Arms. From now on, $1 from every ticket purchased will go to this foundation, dealing with mental health issues.
"Most of us know that mental health is the cause of mass shootings, yet we are obsessed with talking about the symptoms and gridlocking ourselves in political battles without proper action. It's time to find solutions…" insists vocalist Jonny Hawkings. "It's time to focus on mental health."  (via Alternative Press)
Watch the video below:
This whole year Nothing More have been touring heavily in support of their latest album, including a North American tour with Papa Roach and Escape the Fate in the spring. The Texas band will be rocking along with Of Mice & Men, Bad Flower and Palisades on their ɥʇnɹʇ tour, which will start early next year, on February 21 in Phoenix, Arizona. See the list of upcoming tour dates below. You can get your tickets here.
Nothing More ɥʇnɹʇ Tour Dates:
02/21 – Phoenix, AZ @ The Van Buren
02/22 – Los Angeles, CA @ Belasco Theater (no Badflower)
02/23 – Sacramento, CA @ Ace Of Spades
02/25 – Salt Lake City, UT @ The Depot
02/26 – Denver, CO @ Ogden Theatre
02/28 – Oklahoma City, OK @ Diamond Ballroom
03/01 – Kansas City, MO @ The Truman
03/02 – Minneapolis, MN @ Skyway Theatre
03/03 – Chicago, IL @ House Of Blues
03/06 – Grand Rapids, MI @ 20 Monroe Live
03/07 – Pittsburgh, PA @ Stage AE
03/08 – Philadelphia, PA @ The Fillmore
03/10 – New York, NY @ PlayStation Theatre
03/11 – Hartford, CT @ Webster Theater
03/12 – Boston, MA @ House Of Blues
03/13 – Silver Springs, MD @ The Fillmore
03/15 – Charlotte, NC @ The Fillmore
03/16 – Atlanta, GA @ Buckhead Theatre
03/17 – Tampa, FL @ The Ritz Ybor
03/19 – New Orleans, LA @ TBA
03/20 – Houston, TX @ House Of Blues
03/22 – Dallas, TX @ South Side Ballroom
03/23 – San Antonio, TX @ Aztec Theatre
Do you like what we're doing? If so, help us grow by sharing the article – this way we can keep providing you latest news and fun interviews with your favorite bands! Stay tuned with AlteRock Facebook and Twitter to never miss on the news about your favorite alternative music!