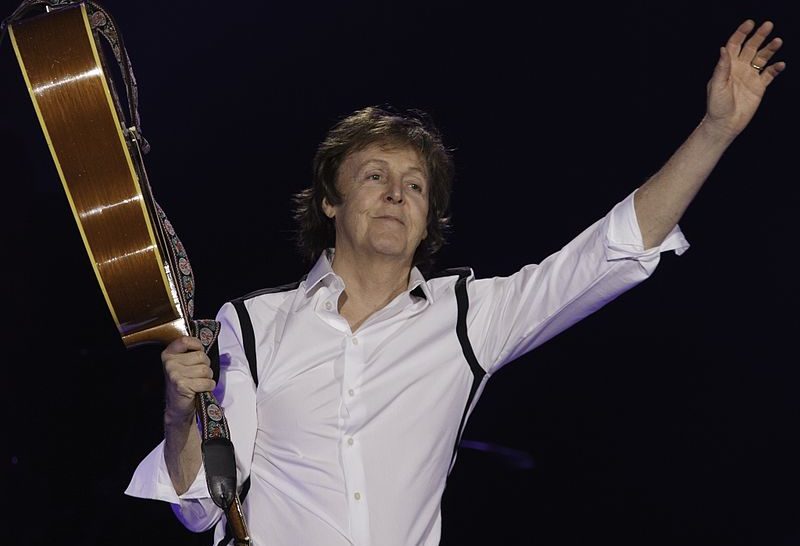 The 76-year-old legend Paul McCartney has revealed a new single 'Fuh You' and posted the album tracklist
August 15, 2018
Whoa! "Is it really the former Beatle?" you can't help but wonder listening to Paul McCartney's new single 'Fuh You'. And yes, that's exactly what the song is about: "I just wanna fuh you," sings the former Beatle in the cheeky feel-good track. You'll be crazy not to give it a listen below.
Maybe back in 1969, when The Beatles dropped 'I Want You (She's So Heavy),' the song lyrics made people's jaws drop pretty much the same way. But what could surprise listeners in 2010s? Exactly! 76-year-old McCartney singing an uncomplicated and straightforward track with lines reading "I just wanna fuh you"! Add to that a trendy pop tune, strong backing vocals and a summer lyric video and you'll never believe it's Sir Paul himself!
How did McCartney even come up with the idea of the song? Here is how track emerged, the singer explains:
"With this one I was in the studio with Ryan Tedder whereas the rest of the album has been made with Greg Kurstin … We were just thinking of ideas and little pieces of melody and chords and the song just came together bit by bit. And then I would try and make some kind of sense of the story. So it was like "Come on baby now. Talk about yourself. Tell the truth, let me get to know you," and basically I wanna know how you feel, you make me wanna go out and steal. I just want it for you. So that was the basic idea and it developed from there … sort of a love song, but a raunchy love song. There you go—fuh you."
More: Liam Gallagher is angry when heckler throws a fish on stage: "Which dickhead threw the fish?"
'Fuh You' is featured on McCartney's upcoming album, Egypt Station, whose tracklisting has just been revealed. Check it out below, along with the creative cover art. Single 'Fuh You' is the third one off of the new album, following previously released 'I Don't Know' and 'Come On To Me'.
In the meantime, McCartney is promoting the new album through secret shows in London and in Liverpool plus a few arena shows scheduled for this year. The three UK shows given earlier this month were sold out within seconds, reportedly, leaving fans no opportunity the very moment they accessed the purchase page at the announced time.
May I have your attention, please! Paul has announced that the next service to #EgyptStation will be calling at… pic.twitter.com/acVcp4hd6v

— Paul McCartney (@PaulMcCartney) August 14, 2018
Egypt Station Tracklist:
Opening Station
I Don't Know
Come On To Me
Happy With you
Who Cares
Fuh You
Confidante
People Want Peace
Hand In Hand
Dominoes
Back In Brazil
Do It Now
Caesar Rock
Despite Repeated Warnings
Station II
Hunt You Down/Naked/C-Link
Do you like what we're doing? If so, help us grow by sharing the article – this way we can keep providing you latest news and fun interviews with your favorite bands! Stay tuned with AlteRock Facebook and Twitter to never miss on the news about your favorite alternative music!