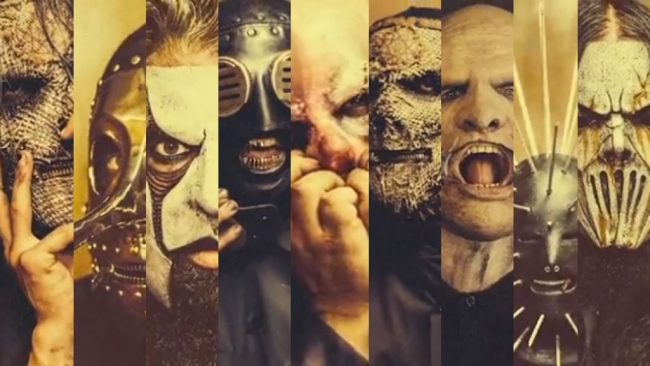 "Don't turn your back on the music that's been," says Corey Taylor about the track's message
October 31, 2018
If there is a band Halloween wouldn't be the same without, it's our masked guys from Slipknot. The band couldn't have chosen a more perfect moment to share 'All Out Life' – their first new track in four years! And of course, Slipknot wouldn't be Slipknot without a powerful blood-thirsty video. Give it a look below!
The music video for 'All Out Life' is made in the good old traditions of Slipknot: a creepy crowd of masked men with "skull" faces, explosions and blood all over the place. The song premiered via Beats 1 on Apple Music, where Zane Lowe met vocalist Corey Taylor and asked him about the message of the track:
[quote align="center" color="#COLOR_CODE"]"Everybody talks about toxic masculinity and toxic fandom these days," Taylor said on Beats 1 (via AltPress). For me, it's more about this toxic idea that unless something came out 10 minutes ago, it's not any good, and that bothers me. … I love new music, but at the same time, don't turn your back on the music that's been."[/quote]
It's true that in the fast-paced world, music fans tend to listen to whatever is "in the trend", and new stuff quickly becomes "so last season". But could it be that Taylor also implied he'd like people not to forget Slipknot, whose last release was four years ago with .5: The Gray Chapter?
In any case, this unexpected Halloween-time treat made Slipknot fans rub their hands in anticipation: the musicians have been busy working on a new record this fall. Taylor goes as far as to say we're in to hear the darkest album in Slipknot's history.
"The album is underway, and it's going to be one of the darkest chapters in Slipknot's history, it's that good," says the singer. "It's complicated, it's dark, it's heavy, it's melodic, it's fierce, it's angry and it's real, it's raw as hell and it's gonna be talking about a lot of things that people are going to need in their life."
Check out Slipknot's new song below! Be the first to leave your comments and stay tuned with AlteRock Facebook and Twitter to never miss on the news about your favorite alternative music!