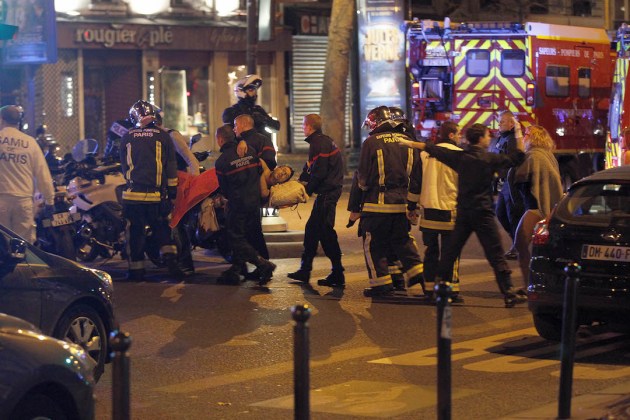 Latest updates read that 128 people are confirmed dead after terrorist attacks in Paris, at least 80 shot at Eagles of Death Metal show at Bataclan
November 14, 2015
A net of terrorist attacks in six locations took place in Paris on Friday night, November 13. One of the target venues was Bataclan theatre with the total capacity of 1,500, where Eagles of Death Metal had a sold-out concert that night. The band members reportedly heard gunfire, stopped playing and ran backstage.
According to the New York Daily News, minumum 80 people were shot at the Bataclan after the terrorists entered the venue at the end of the set. A hostage situation was lifted bt the police as they stormed Bataclan theatre and freed dozens of people. Four gunmen who entered the venue are believed to be dead. So far, 128 people are confirmed dead after terrorist attacks in Paris, and the number is expected to rise.
CNN reports that French President Francois Hollande is blaming ISIS for the terrorist acts. The president has declared a state of emergency in France and closed the country's borders. People in France are being asked to not exit their homes. Many public buildings were shut down.
Eagles of Death Metal issued a statement on their Facebook page saying, "We are still currently trying to determine the safety and whereabouts of all our band and crew. Our thoughts are with all of the people involved in this tragic situation." The band members are safe, and an earlier reported that one member had died turned out erroneous.
Members of Deftones and their crew also came to see the show but they managed to leave 15 minutes before the attack began. The band was scheduled to play the next three nights at Bataclan. See Deftones' post on their Facebook page below.
Radio reporter Julien Pearce, who was inside the Bataclan but managed to exit the building, described the scene to CNN. Click on the video to hear what he told CNN crew.
Photo credit: Thierry Chesnot, Getty Images
Ten «horrific» minutes of shooting according to this witness inside the #Paris theater: https://t.co/3u7gegPiin https://t.co/dJDyLNR1fu

— CNN (@CNN) November 13, 2015