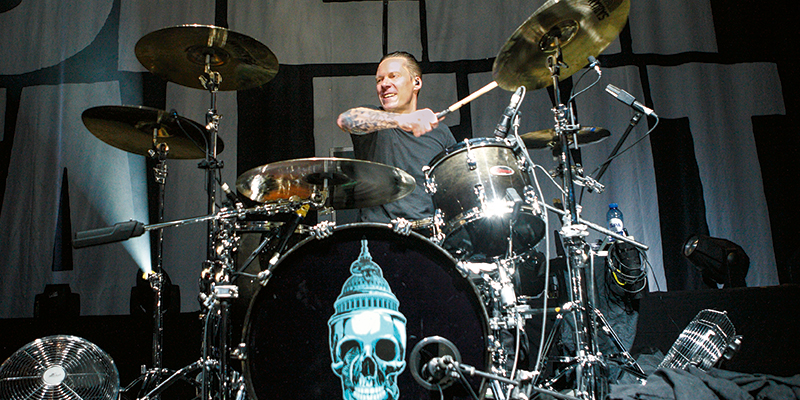 Aaron Solowoniuk won't be taking part in recording sessions for the upcoming album due to a recent multiple sclerosis relapse
January 18, 2016
Canadian punk-rockers Billy Talent keep turning their wheels recording new material but they are currently moving ahead without their drummer Aaron Solowoniuk, Loudwire website reports. The musician has had multiple sclerosis over the years and after a recent relapse he took the decision to not take part in the upcoming recording process. You can see the video below, in which Solowoniuk explains he has had MS for over 15 years but never stopped recording or touring with Billy Talent. «Over the past six or seven months I've been dealing with a relapse», he says. «I'm going to be switching medicine this week and doing everything I can to get healthy… Rest assured I'm going to do everything I can to get back on drums, but right now I need to step away for a bit and focus on my health".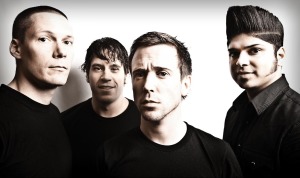 Due to MS symptoms Solowoniuk hasn't been able to keep up with the rest of the band on drums. Other Billy Talent members offered to postpone the recording until he gets better, but the drummer insisted they should move forward without him behind the kit as it might take a while before he's recovered and ready to rock again. Billy Talent are now working on their next studio effort, following 2014's Hits collection release, and will head to Europe in June for summer rock festivals.
With Solowoniuk's approval, Billy Talent have asked Alexisonfire's Jordan Hastings to replace him on drums during the recording sessions for the new studio album. However, it doesn't mean that Solowoniuk is physically away from the band and the studio these days: he's not being idle, just waiting to get better. Instead, he is documenting the recording sessions for the upcoming record, being the band's studio photographer and video operator for a while.
So far it hasn't been an easy road for Aaron Solowoniuk. In March 2006, he informed the bands' fans of his diagnose, multiple sclerosis. Billy Talent's song 'This Is How It Goes' is dedicated to Solowoniuk's battle with MS and his iron will and determination to keep on rocking with Billy Talent at any cost. The drummer first kept his illness secret to avoid pity reactions but later publicly admitted it and grew to become an advocate to help cure MS. In 2006 he organized a concert benefit on Boxing Day with Billy Talent, Moneen and Alexisonfire in Toronto and sent all proceeds to the Multiple Sclerosis Society of Canada. Three years ago, on Feb 2, 2012, Solowoniuk underwent open-heart surgery. Alterock wishes Aaron Solowoniuk a quick and full recovery.
Watch the video below where Aaron Solowoniuk explains his decision to step away from recording and wish him to get better soon in the comments below. Be sure to stay tuned with Alterock and join us on Facebook and Twitter to never miss on the news about your favorite alternative music!
[schema type=»review» url=»http://alterock.net/billy-talents-drummer-multiple-sclerosis-relapse/» name=»BILLY TALENT's Drummer Takes a Break After Multiple Sclerosis Relapse» description=»Aaron Solowoniuk won't be taking part in recording sessions for the upcoming album due to a recent multiple sclerosis relapse» rev_body=»Billy Talent's drummer Aaron Solowoniuk has had multiple sclerosis over the years and after a recent relapse took the decision to step away from the recording process. » author=»Tatiana Vinichenko» pubdate=»2016-01-19″ user_review=»5″ min_review=»1″ max_review=»5″ ]