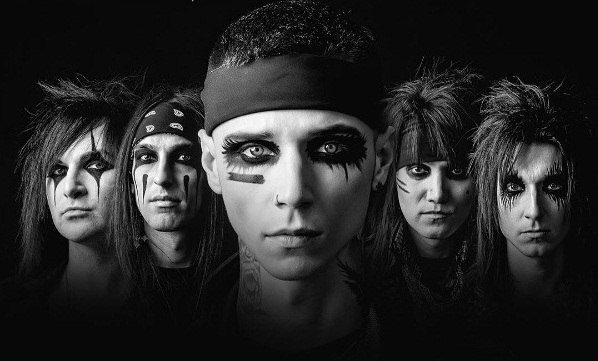 Guitarist Jake Pitts took to Instagram to share the details of the recording process
April 24, 2017
«We are excited to say it's officially mixed and mastered which equals DONE!!», says Black Veil Brides on their upcoming fifth album, suppposedly coming out this fall.
Guitarist Jake Pitts has written a detailed post on his Instagram page, giving us the album update and sharing what it was like to work with producer John Feldmann on the new album.
[quote align=»center» color=»#COLOR_CODE»]«When we first worked with John back in 2012 I didn't always see eye to eye with him and I was a little close minded», admits Pitts. «I'm happy to say that I have grown so much as a musician, songwriter and producer and I owe it all to him!»[/quote]
More: ANDY BIERSACK announces his own talk show, The Andy Show, watch teaser
The guitarist also has high expectations for the resulting record. His post says:»This album kicks a lot of ass and I cannot wait for you all to hear it!» Check out Pitt's post below!
John Feldmann had previously produced BVB's album Wretched and Divine: The Story of the Wild Ones, released in 2013. Since then frontman Andy Biersack has been working a lot as a solo singer, making him a more versatile vocalist. He told in December that he learned how to master his voice better, which let him «have a much wider range vocally» on this BVB album.
[quote align=»center» color=»#COLOR_CODE»]«That's my favorite thing we've ever worked on,» says the frontman. «This goal is to bridge the gap between the two records. And I'm a different singer now, as well. I wouldn't be able to sing a song to completion without my throat being ripped to shreds in those days. I didn't know how to do it; I was just pushing so hard. I had that raspy vibe, I was drinking all the time and wasn't very healthy. Now, I have a much wider range vocally»[/quote]
Biersack points out the recording process was as smooth as can be: all of the band members were on the same page, so they had a real chemistry going on: «There's an unspoken language in the band, particularly when the three of us are writing these songs, there's a great chemistry. Everyone in the band feels the same way.»
Have you heard Black Veil Brides' first single from the new album yet? The song is titled 'The Outsider' and it's the band's first release since 2013. If you missed out on it, check it out at this location.
Excited to hear the band's new stuff that «kicks a lot of ass»? Be the first to leave your comments and stay tuned with AlteRock Facebook and Twitter to never miss on the news about your favorite alternative music!