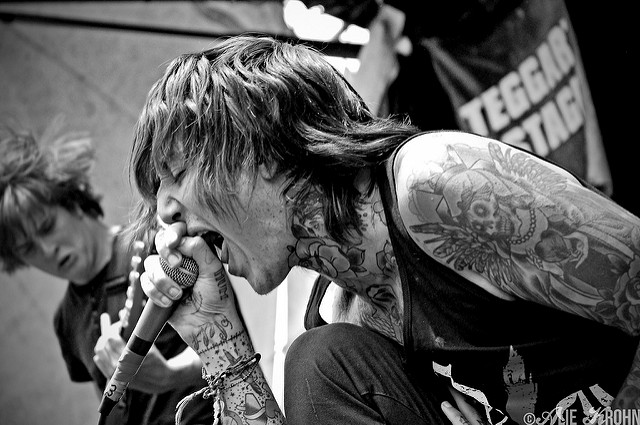 Oli Sykes is "hardly able to speak" due to a viral infection, the band posts an apology to fans
September 21, 2016
Bring Me The Horizon had no choice but to call off their sold-out show scheduled in Adelaide, Australia. Frontman Oli Sykes' has a viral infection, which caused inflammation in his throat. The band has posted an official statement on the cancellation, saying that Sykes «is hardly able to speak, let alone sing."
More: See Elderly People React to BRING ME THE HORIZON Music and Videos
The band's crew explains in the statement that they've done all they could so as not to cancel the show. "We wanted nothing more than to perform tonight but when it's physically impossible to sing then our hands are tied. We are so sorry for this and we hope you understand we have done everything we possibly can in the last 48hrs to make this show happen."
Watch: BRING ME THE HORIZON Release Shockingly Brutal Video for 'Follow You'
Read the band's statement below and be sure to let us know what you think.
[quote align=»center» color=»#COLOR_CODE»]
Live Nation and Unify regret to announce Bring Me The Horizon's sold out performance tonight at the AEC Theatre will not go ahead due to illness.
The official statement from the band reads as follows:
"Unfortunately we have no choice but to cancel tonight's show in Adelaide. Oli has a viral infection which has caused his throat to become very infected and he is hardly able to speak, let alone sing.
"We have been looking forward to coming back to Adelaide since 2013 and we're genuinely gutted about this, this tour has been one of the best tours we've been involved with and the crowds have been unbelievable.
"We wanted nothing more than to perform tonight but when it's physically impossible to sing then our hands are tied. We are so sorry for this and we hope you understand we have done everything we possibly can in the last 48hrs to make this show happen.
We will make this up to you as soon as we possibly can Adelaide."
BMTH
[/quote]
More: Watch BRING ME THE HORIZON's Performance Video for 'Avalanche'
Be the first to leave your comments and stay tuned with Alterock Facebook and Twitter to never miss on the news about your favorite alternative music!