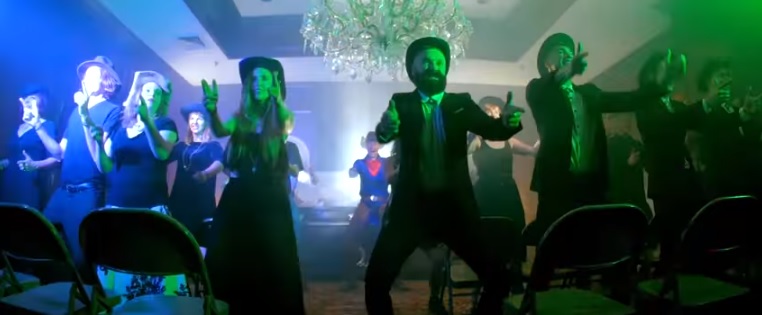 An old cowboy catching a woman with a lasso + dancing zombies — Don Broco's new video is a must-see
July 18, 2016
If we had to choose this year's winners in the category «Wierdest Music Video 2016», Don Broco would 100% take home the award thanks to their video for the brand new single 'Everybody'. Watch it below.
Imaginative alt-rockers from Bedford, England have outdone themselves with the new clip. From the very first seconds of the clip, the story is gripping (or lasso-gripping, if you want), as we see an old cowboy with a lasso chasing a screaming woman down the field. Having succeeded to do so, he ties her to the chair and… performs a sort of a zombie dance (apparently, Don Broco's own version of Macarena or Gangnam style).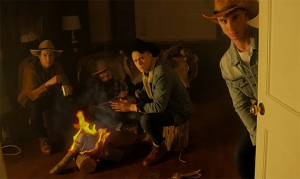 The police knocks on the cowboy's door as they are seeking the lost woman — and guess what happens next! Funnily enough, despite all the silliness happening in the video, you cannot help watching it till the end.
Don Broco recently inked a deal with Sharptone Records, so the band's fans were expecting new tunes from the group. And judging by the new song and video, it was worth the wait.
The band will hit the road with Massmatiks this week and, interestingly, will perform at each venue twice, delivering their debut album, Priorities, in full on the first night and the latest record, Automatic, on the second one.
What are your thoughs on 'Everybody' video below? Be the first to leave your comments, share the article, and stay tuned with Alterock Facebook and Twitter to never miss on the news about your favorite alternative music!
Don Broco Summer 2016 Tour Dates:
Jul 24 – Gorilla, Manchester – Priorities
Jul 25 – Gorilla, Manchester – Automatic
Jul 26 – Oran Mor, Glasgow – Priorities
Jul 27 – Oran Mor, Glasgow – Automatic
Jul 28 – Riverside, Newcastle – Priorities
Jul 29 – Riverside, Newcastle – Automatic
Jul 31 – O2 Institute, Birmingham – Priorities
Aug 1 – O2 Institute, Birmingham – Automatic
Aug 3 – Key Club, Leeds – Priorities
Aug 4 – Key Club, Leeds – Automatic
Aug 5 – Esquires, Bedford – Priorities
Aug 6 – Esquires, Bedford – Automatic
Aug 8 – O2 Islington Academy, London – Priorities
Aug 9 – O2 Islington Academy, London – Automatic
Aug 10 – Engine Rooms, Southampton – Priorities
Aug 11 – Engine Rooms, Southampton – Automatic
Aug 13 – Open, Norwich – Priorities
Aug 14 – Open, Norwich – Automatic
Aug 15 – Marble Factory, Bristol – Priorities
Aug 16 – Marble Factory, Bristol – Automatic