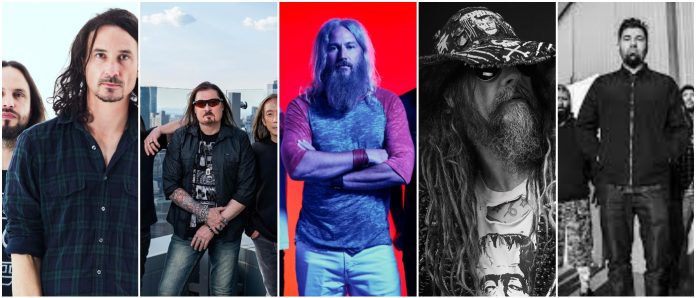 The nominees for Grammys 2022 have been announced, and its metal nominees are exciting
Now we know who's nominated in each of the 86 categories at the upcoming 2022 GRAMMYs Awards. The 64th Grammys evaluate and celebrate recordings released between Sept. 1, 2020 and Sept. 30, 2021. Mostly, it looks at pop and hip-hop scene, but also singles out leading rock and metal acts in «heavier» categories.
In the only metal category, titled Best Metal Performance, Grammys decided to honour with nominations quite a few legendary bands. Namely, Rob Zombie, Deftones, Gojira, Dream Theater and Mastodon. Let's look at the published lists of nominated tracks and give a shot at predicting who the 2022 winners might be.
Best Metal Performance Nominees:
Genesis
The Alien
Amazonia
Pushing The Tides
The Triumph Of King Freak (A Crypt Of Preservation And Superstition)
That's a toughie. All of the bands above have already been recognized and nominated at Grammy Awards at least once, so Grammy experts wanted to play it safe this time and not handpick up-and-rising metal stars from around the globe. Deftones' nominated track 'Genesis' is classic Deftones, which takes you back in time — pretty much to year 2000, when the band got their previous Grammy statuette. But did they outdo themselves with 'Genesis'?
More: THE STROKES win first Grammy award: The New Abnormal becomes Best Rock Album 2021
The same could be said about Rob Zombie, who's got 7 nominations and is yet to win Grammys. His soundtrack-sounding 'The Triumph Of King Freak' is pretty epic, but stands nowhere near earlier nominated 'Never Gonna Stop' or 'Thunder Kiss '65 (Single)'. If those masterpieces didn't deserve a Grammy, nothing will.
Dream Theater, twice Grammy-nominated before and never its winners yet, have a better shot for sure with their 9-minute Zen-inspiring progressive rock track. 'The Alien' does just what it should: orbits the listener to an alternative universe and keeps him entertained.
But if my gut feeling is any good, the real tie will be between Gojira and Mastodon this time. While 'Amazonia' isn't something we've never heard before, you cannot help but keep listening to its gripping tune, accompanied by a visually arresting tribal music video. Gojira is now in Grammys' radar as in 2016 they received two nominations at once, for Best Metal Performance Nominees and Best Rock Album.
Watch: Icelandic industrial band HATARI rocks the stage of Tallinn Music Week
Its competitor, Mastodon, are presented here with a true headbanger 'Pushing The Tides', a genre-breaking multifaceted track you won't get bored with from start to finish. Bearing in mind Mastodon is Grammys' most recent pick, with an award for 'Sultan's Curse' in 2017, it will come as no surprise if they get another statuette.
The 2022 Grammy Awards ceremony will take place at the Crypto.com Arena in Los Angeles in two months from now, January 31, and will air on CBS at 8 p.m. ET. Who would you give the metal award this time? What metal tracks deserved to be nominated too but got overlooked by Grammys? Let us know on AlteRock Facebook and AlteRock Twitter!