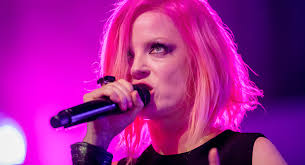 Shirley Manson is pissed off with Glastonbury festival organizers' reluctance to invite more female artists
June 8, 2016
Garbage frontwoman Shirley Manson has the reputation of a rock singer who always speaks her mind. In her recent tweet she shouts out to the organizers of 2016 Glastonbury festival and insists there should be more female performers.
Shirley's straightforward post reads, «Why doesn't Glastonbury invite more of us onto the stage with our male peers rather than shove us women into a ghetto type of situation?»
One commenter suggested that, on the bright side, there might is certain exclusivity in women-only spaces, to which Garbage frontwoman replied: «why? Music isn't a gender based art and neither should it be….gender is dead…..» The singer recently told The Pool website that she is «growing more and more entrenched» in her feminist principles.
Do you agree with Shirley? Would you like to see more female artists at rock festivals? Share your thoughts in the comments, and join Alterock Facebook and Twitter to stay tuned for rock and metal news.
Why doesn't Glastonbury invite more of us onto the stage with our male peers rather than shove us women into a ghetto type of situation ?

— Garbage (@garbage) June 7, 2016