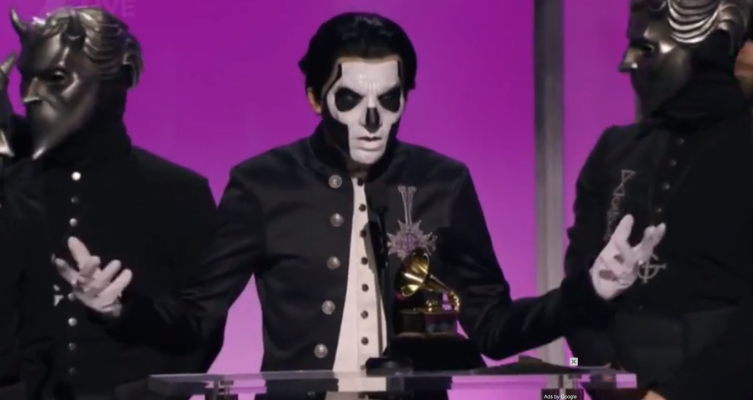 Ghost had intensively promoted their Grammy nomination and not in vain: the band has won the award for Best Metal Performance
February 17, 2016
Congratulations to Swedish metal act Ghost for winning the «golden idol» in Best Metal Performance category for their song 'Cirice' at 58th Grammy Awards, which aired this past Monday, Feb 15. The band has outperformed really powerful rivals — Slipknot, August Burns Red, Lamb of God and Sevendust. And congratulations to… our website, AlteRock, for our accurate bet for the second year in a row as to who takes home the Grammy award for Best Metal Performance. On Dec 8, 2015 we posted the list of nominees in the category and made a guess:
All competing songs in the list are strong and deserve the award no doubt, so it's hard to predict who Grammy judges will consider the most outstanding this time. But as we were pretty damn right about last year's winner in the same category, we would like to make an assumption that Ghost will take home the award this time, since 'Cirice' is a notable, melodic and even disturbing track, which can hardly be ignored. (See the full article here.)
And we got it right! Ghost received the honorable award not during the main ceremony but during the Grammy pre-telecast. Even though Ghost had done a lot to promote their nomination over the past few months and arrived at the ceremony dressed in full attire, the Swedish group seemed a bit lost for words when they took the stage. Frontman Papa Emeritus III delievered a very brief speech: "Thank you so much for this. This is a big, big thing for us. You know a nightmare has just turned into a dream. Thank you all for that. Thank you to everyone involved for voting. Now, go party!" Check out his speech after the announcement of Ghost's win:
https://www.youtube.com/watch?v=rb9cy3Me0hk
Later at the Grammy ceremony, Ghost stopped to record a video thank you for their Grammy win to their fans, managers, labels and producers. To watch the thank you clip, follow this link.
The Swedes had taken their nomination very seriously. They had launched a trailer, promoting themselves as Grammy nominees, saying "We are heard. Our hour has come" (watch the trailer at this location). The trailer was closely followed by a special video titled 'My First Grammy Nomination', where a Nameless Ghoul shared Ghost's reaction to the nomination.
Watch more: GHOST Share 'My First Grammy Nomination' Video (click here)
After the winter holiday break, Ghost are ready to jump back on tour with a row of European dates to come and then will head to the U.S. for another leg of shows beginning April 13 in Montclair, NJ. Tickets are already on sale.
What do you think of Ghost's win and their speech at the ceremony? Share your thoughts in the comments, and join Alterock Facebook and Twitter to stay tuned for rock and metal news.