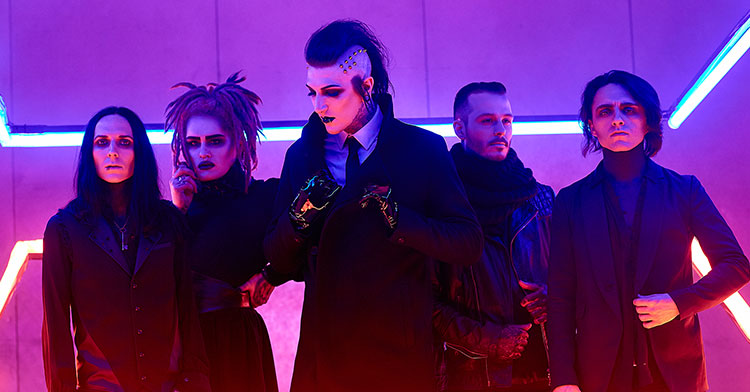 Motionless In White invited Jonathan Davis to record their dark variation of the 1963′ hit 'It's My Party'
May 6, 2017
You all remember this good old tune «It's my party and I'll cry if i want to / I'll cry if i want to / I'll cry if i want to… » Except now it's Motionless In White's own piece 'Necessary Evil', where only the chorus line and tune are borrowed from the 1963′ Lesley Gore's 1963 pop hit 'It's My Party'.
More: Chris Motionless shows what the future of rock looks like
Chris Motionless decided to give the song a dark, Marilyn Manson kind of mood, changing the lyrics to «It's my party and I'll DIE when I want to» and adding his own domination-submission-themed verses. And collaboration with Korn's Jonathan Davis makes the track infectious and simply irresistible. Check out the new song, 'Necessary Evil', and its lyrics below.
As you imagine, 'Necessary Evil' is featured on MIW's fresh album, Graveyard Shift, which was released yesterday, May 5. So far, the band has already officially dropped four tracks from the new record: 'Rats', 'Loud (Fuck It),' 'Eternally Yours' and '570.'
Listen to Motionless In White's 'Necessary Evil' (featuring Jonathan Davis) below, check out the lyrics and compare the track with the 1963′ 'It's My Party' underneath. Which version do you like better? Be the first to leave your comments and stay tuned with AlteRock Facebook and Twitter to never miss on the news about your favorite alternative music!
Watch: MOTIONLESS IN WHITE play 'Eternally Yours' first time live
«Necessary Evil» (feat. Jonathan Davis)
Strip off the weight of morality and check it at the door
I'll show you the worst in me (what I've become)
Blow out the candles, I need not a wish for I am everything
Now crawl to my boots and lick (kneel before me)
Imma have my cake and fucking eat you too
It's my party and I'll die when I want to
Die when I want to, die when I want to
The monster you've made is wearing the crown
I'll be the king and you'll be the clown
I'll take the blame, parade it around
You've made me the villain you can't live without
Reciting violence like poetry, no, you can't sit with us
Too fashionably plain (now say my name)
Forget everything you think you knew of who I used to be
I look much better as… as the enemy
Imma have my fucking cake and eat yours too
It's my party and I'll die when I want to
Die when I want to, die when I want to
The monster you've made is wearing the crown
I'll be the king and you'll be the clown
I'll take the blame, parade it around
You've made me the villain you can't live without
I want you low
I won't let you die
Keep you alive
Just to remind you of what you are not
It's my party, I'll die when I want to
You wanna see me fail, but I won't die for you
It's my party and I'll die when I want to
Die when I want to, die when I want to
The monster you've made is wearing the crown
I'll be the king and you'll be the clown
It's my party and I'll die when I want to
Die when I want to, die when I want to
I want you low
Imma have my cake and fucking eat you too
Lesley Gore — It's My Party (1963)