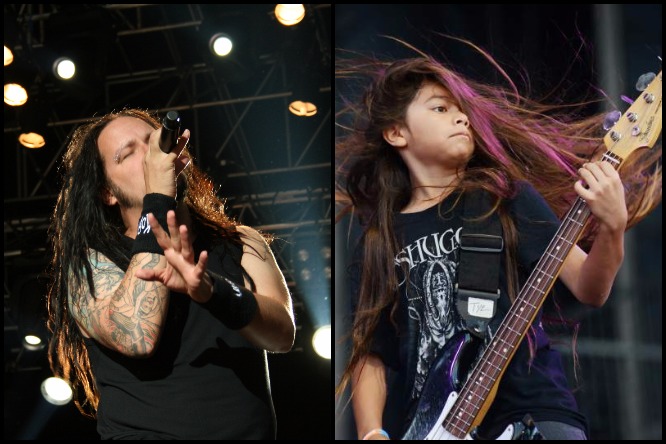 The news wasn't given a warm welcome, though: Tye Trujillo might have a hard time trying to prove many outraged Korn fans wrong
April 10, 2017
As unbelievable as it may sound, the news is true. Korn will have Metallica bassist Robert Trujillo's 12-year-old son, Tye Trujillo, on bass for their upcoming tour. Reportedly, Korn's own bassist, Fieldy, will have to sit out their South American tour leg this month (via AltPress).
In the statement, announcing the young bass player, Korn wrote:
«On April 17, Korn is heading down to South America for a run of dates in Columbia, Brazil, Argentina, Chile and Peru. Due to unforeseen circumstances, Fieldy is unable to make the shows so the band will be joined by a special guest. Filling in for bass duties will be Tye Trujillo, the 12-year old son of Metallica's Robert Trujillo and member of NorCal group The Helmets.»
More: Korn members Fieldy and Ray Luzier join UK cover band Korn Again on stage
So, Colombia, Brazil, Argentina, Chile and Peru will see Korn with the new recruit, 12-year-old Tye Trujillo. Korn assure that Fieldy will be back with them when they return to the States in May:
«We are bummed Fieldy can't join us on this run but excited to do a few gigs with a young player like Tye. We look forward to welcoming our brother Fieldy back when we return to the States in May.»
The announcement has made Korn fans' hair stand on end, followed by a lot of negative feedback like the following one:
[quote align=»center» color=»#COLOR_CODE»]«Are you f— in serious???? Fuck that. You dont come often to southamerica, some people waited for YEARS and this happens. Im not blaming Fieldy, he Must have good reasons but at least show some respect adding a proffesional player like Ryan from Mudvayne like you did some years ago. This f— in sucks!»[/quote]
…whereas others don't see a tragedy in that and ask other fans to stop being so negative to the brave kid:
[quote align=»center» color=»#COLOR_CODE»]«Jeez, there is so much hate and disrespect in the comments.
It's sad that Fieldy won't be able to play the shows, but I'm sure Tye will do a great job.
You need to keep in mind that this kid is 12 years old and is willing to play in front of hundreds, maybe thousands of fans. Not many 12 year olds could have the courage to do anything like that.
Quit bitching and give the kid a chance.»[/quote]
See the band's South America dates for April below, along with Korn's Facebook statement on recruiting Trujillo and fans' comments. Share your thoughts in the comments, and join AlteRock Facebook and Twitter to stay tuned for rock and metal news.
Korn 2017 South American tour:
04/17 — Bogota, Colombia @ Chamorro Entertainment City Hall
04/19 — Sao Paulo, Brazil @ Espaco Des Americas
04/21 — Curitiba, Brazil @ Net Live Curitiba
04/23 — Porto Alegre, Brazil @ Pepsi On Stage
04/25 — Bueno Aires, Argentina @ Estadio Malvinas Argentinas
04/27 — Santiago, Chile @ Teatro Caupolican
04/29 — Lima, Peru @ Vivo X El Rock Festival
[fb_embed_post href=»https://www.facebook.com/korn/posts/10155051178150761/» width=»550″/]