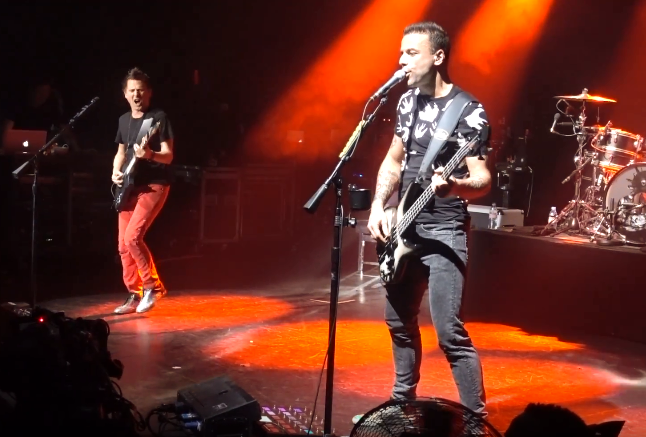 Muse played a unique «by request» show in Paris, with setlist voted for by fans
February 26, 2018
This past Saturday, February 24, Muse played a superare show their European fans could only dream of. The band's hardcore fans gathered in Paris club La Cigale to hear Muse's rarities and songs they had voted for.
The voting had taken place in an online poll, and guess what, fans couldn't wait to hear Muse play their newest single, 'Thought Contagion'! So the show also saw the the live debut of the viral song, and not only did it live up to fans' expectations, it exceeded them:
'Thought Contagion' — By Request show
https://youtu.be/eGmJesJ6gj8
After 'Thought Contagion' spectacularly opened the rarities show, the crowd enjoyed their favorites from Absolution, Showbiz and Origin Of Symmetry, interchanged with the tunes Muse hadn't played for a decade or two. From an Absolution B-side 'Eternally Missed' (first time since 2002) to 'Space Dementia' and 'Helsinki Jam' (first time since 2011). The show wrapped up with another rarity, 'Yes Please', which hadn't been played as a closing song since 2000.
Check out the full setlist below, along with the band's anthemic performance of 'Psycho'.
'Psycho' — By Request show
More: Muse frontman predicts the «End of US Global Hegemony», links Trump's America to Orwell's '1984'
Muse By Request Show Setlist (Feb 24):
Thought Contagion (live debut)
Interlude
Hysteria
Eternally Missed (First time since 2002)
New Born
Space Dementia (First time since 2011)
Fury
Psycho
Helsinki Jam (First time since 2011)
Showbiz
Uprising
Citizen Erased
Supermassive Black Hole
Bliss
Encore:
Muscle Museum
Plug In Baby
Encore 2:
Assassin
Stockholm Syndrome
Agitated
Yes Please (First time as closing song since 2000)