Paramore members had a challenge of transforming into the celebrities of the 30-ies in this retro video
February 5, 2018
It's a fact that Paramore have never been too serious about themselves: they love self-irony, especially when it comes to making music videos. The retro concept for the new clip for 'Rose-Colored Boy' took them a few decades back and had them dressed in accordance with the trends of the 30-ies of the XX century.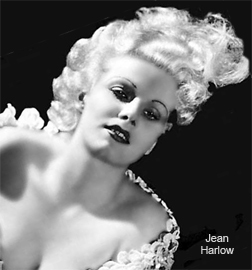 You can't recognize Paramore's singer, Hayley Williams, in this image? We aren't surprised! From the retro puffy perm on her head to the plain, minimalist red suit, she reminds of the iconic actress and sex symbol of the thirties, Jean Harlow (on the right). And talk about the other band members' ridiculous mustache!
Paramore couldn't have done a better job transforming into these characters from close to a hundred years ago. Be sure to watch the 'Rose-Colored Boy' music video below.
The song 'Rose-Colored Boy' is taken from the group's latest album, After Laughter.
Watch: Paramore put the crowd in motion with 'Hard Times' Performance on Jimmy Kimmel Live
Do you like what we're doing? If so, help us grow by sharing the article – this way we can keep providing you latest news and fun interviews with your favorite bands! Stay tuned with AlteRock Facebook and Twitter to never miss on the news about your favorite alternative music!