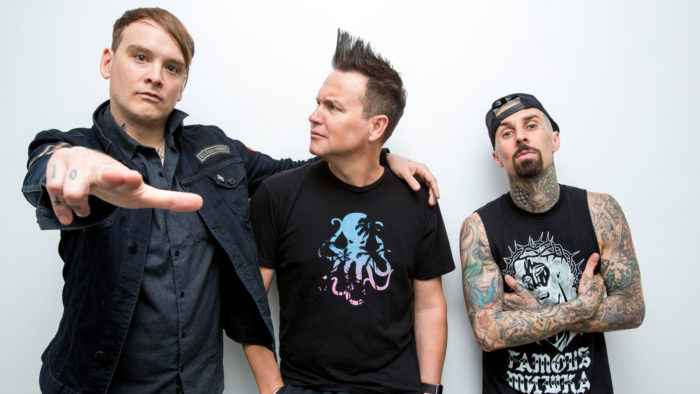 "It's not a collection of throwaway songs, it's like a whole other album," reveals Mark Hoppus
December 21, 2016
You're probably used to thinking that whenever there's a deluxe or any other album edition on the horizon, it's more of a re-issue of what's already been released plus a couple of bonus tracks. With Blink-182's deluxe coming up, it's actually almost a new album in addition to the recently released hyper-successful disc California.
The band has been working on new music for a deluxe edition and Mark Hoppus recently told Billboard that it's "not a collection of throwaway songs, it's like a whole other album."
Hoppus reveals that some of the new tracks are absolutely new; they were recorded just last week:
"Some of the songs were songs that we did not put on the first album, but are great songs. And some are brand new that we just wrote last week, a lot of high-energy songs, punk rock, some more ballad-y songs, a little more electronic experimentation, it's a good mix."
The puzzler was that the deluxe edition might sound even better than the original record itself, according to the group. Travis Barker explains:
[quote align="center" color="#COLOR_CODE"]"We're working on the deluxe album and I got in a conversation with [producer John] Feldmann this morning. I was like, 'Dude, we got a problem, the deluxe album might even be better than California. It's a good problem to have, but, oh shit, it's incredible. It's kind of like a mind fuck because it should almost be a new album', Barker continues, reassuring fans "the deluxe album will be neck-and-neck with California. It's in no way fillers."[/quote]
Are you stoked to hear "a whole other album" from Blink-182 in addition to the recently released California? Be the first to leave your comments and stay tuned with AlteRock Facebook and Twitter to never miss on the news about your favorite alternative music!