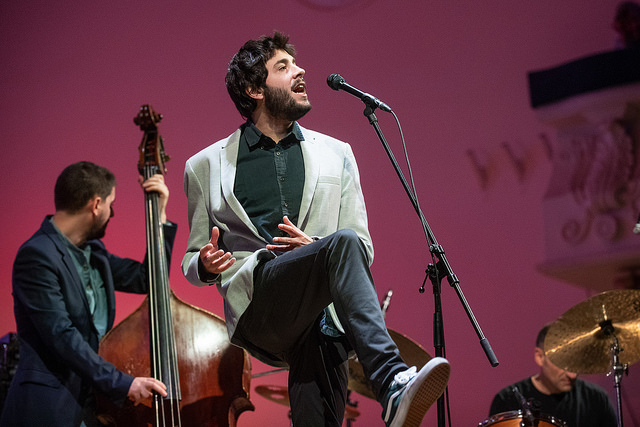 The annual Estonia's Jõulujazz (Christmas Jazz) festival had someone special as this winter's highlight. It's the Europe-and-beyond known Portugal's 2017 Eurovision winner, innovative and emotional singer Salvador Sobral. For Salvador, this night in Tallinn was also cozy and special.
December 7, 2018
Though it's not typical to hold headline festival concerts on Mondays, the spacious Estonia Concert Hall (part of the building of the National Opera) didn't have a spare seat on the cold winter night of December 3. Sobral was impressed himself: "A jazz concert in the opera house!" – he smiled, beginning his Jazzkaar set, accompanied by the piano, percussion and double bass.
If I had to describe the night in three words, I'd say "expressive", "on-the-spot" and "sincere". The Portuguese artist has always stood out for his versatile dramatic delivery and spontaneous, a bit awkward stage behavior. The latter deserves a separate recollection. From sudden leg kicks at emotional song moments to criss-crossing the stage, to "Why am I holding the mic like this?"postures, which bewildered Sobral himself. But don't let this childish immediacy confuse you: it all adds up to the cozy singer-to-listener atmosphere that Sobral win the hearts of dozens of millions watching him sing at Eurovision last year.
More: Surprising Eurovision 2018 voting results: all rock and metal acts make it to Final
The vocalist interacted with the public from the first minutes of the concert and felt at home here in Tallinn. When he ran off the stage, down to the middle of the hall and resumed singing his part without a microphone, the crowd was a bit taken aback by how spontaneous and close to the listener Sobral chooses to be.
Needless to say, the audience couldn't wait to hear the renowned piano ballad, 'Amar Pelos Dois'. And let me tell you, the TV cannot possibly transmit the vocal range and nuances the singer showcased on stage. In addition to songs in Portuguese, Sobral delighted the audience with a few Spanish-language tracks, including 'Cerca del Mar', and others. Not surprising, since in 2016 he launched his debut album, Excuse Me, presenting a mixture of Latin America's musical traditions, bossa nova and jazz.
Watch: Eurovision 2018: Results, scores & reaction
The night was full of humour and on-the-spot jokes. Introducting 'Amar Pelos Dois', Sobral made sure we knew the song was about love but joked it could easily be something else, we would still be clapping, having no idea what he's singing about. "I'm singing in Portuguese, and I could be saying "F—ck you all. But I swear I'm not. I'm just singing about love." Watch his hilarious intro speech below:
Out of curiosity, the singer asked for a show of hands: "Does anybody here understand Portuguese?" When just one man raised his hand, Sobral smiled and said: "Ok, you'll kill you after the show". On a serious note though, the musician underlined how passionate he is about languages. He even went on to say: "One day when I cannot sing anymore, I'll dedicate myself to languages".
But I'm sure he'll be able to sing for many many years to come. Having battled with health problems for a long while, Sobral's chords seem to be in the best condition, only getting better with touring. Watch the live footage from Tallinn's Jõulujazz below and leave your thoughts and impressions in the comments underneath.
Text and video footage: Tatiana Vinichenko
Photos: Jazzkaar
AlteRock would like to thank MTÜ Jazzkaare Sõprade Ühing for cooperation.