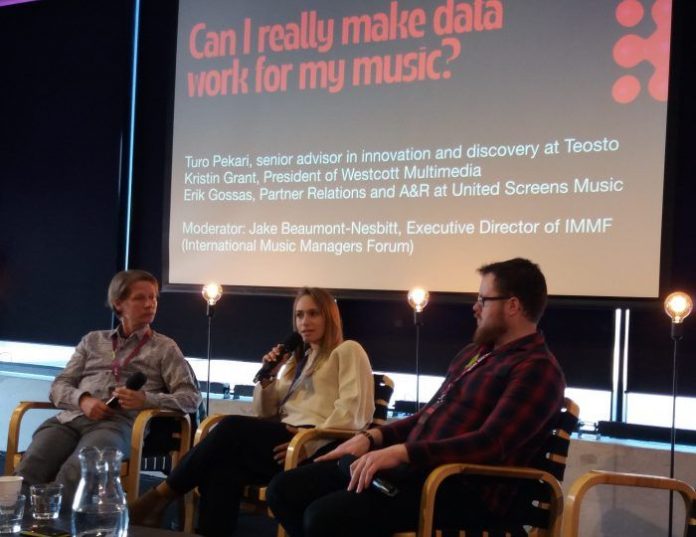 With spring slowly arriving in the Baltics, hundreds of artists and music delegates arrived to the annual Tallinn Music Week festival in Estonia. On top of countless showcases, on March 29-30, music experts gathered to share their thoughts on ongoing trends in music industry at TMW conference. A new location, Estonian Academy of Arts, welcomed all curious minds.
Can I really make data work for my music?
Whether you have your videos on YouTube or upload your music to streaming services, you get access to loads of various statistics and data such as age, demographics and geolocation of your viewers/listeners. But how not to drown in all this information and use it to arrive to viable decisions? That's what was on Tallinn Music Week's agenda this day.
Kristin Grant, President of Westcott Multimedia, revealed that today's artists' and managers' goal is not just to make the user click on a YouTube video or listen to some song on Spotify or Apple Music but to keep him engaged with the music.
"It's important that the person doesn't just listen to the song once and goes away, but likes it, adds it to his playlist, buys an album, a T-shirt or a concert ticket," she explains. "You need to keep the listener engaged."
A huge issue Tallinn Music Week panel brought to light is that music-related data is very fragmented, and it's often hard or impossible to track and put together this various data. When the listener clicks the artist's interview on one site and then streams the same artist's music on another platform, there's lack of data communication between all these media. Unlike the smart approach by Netflix, for example, as the experts pointed out. The strategy Netflix uses is all-encompassing: production, distribution and feedback are congregated in one place and go back to Netflix.
So maybe music streaming platforms of the future will remind Netflix's approach? What do you think? Be the first to leave your comments and stay tuned with Alterock Facebook and Twitter to never miss on the news about your favorite alternative music!