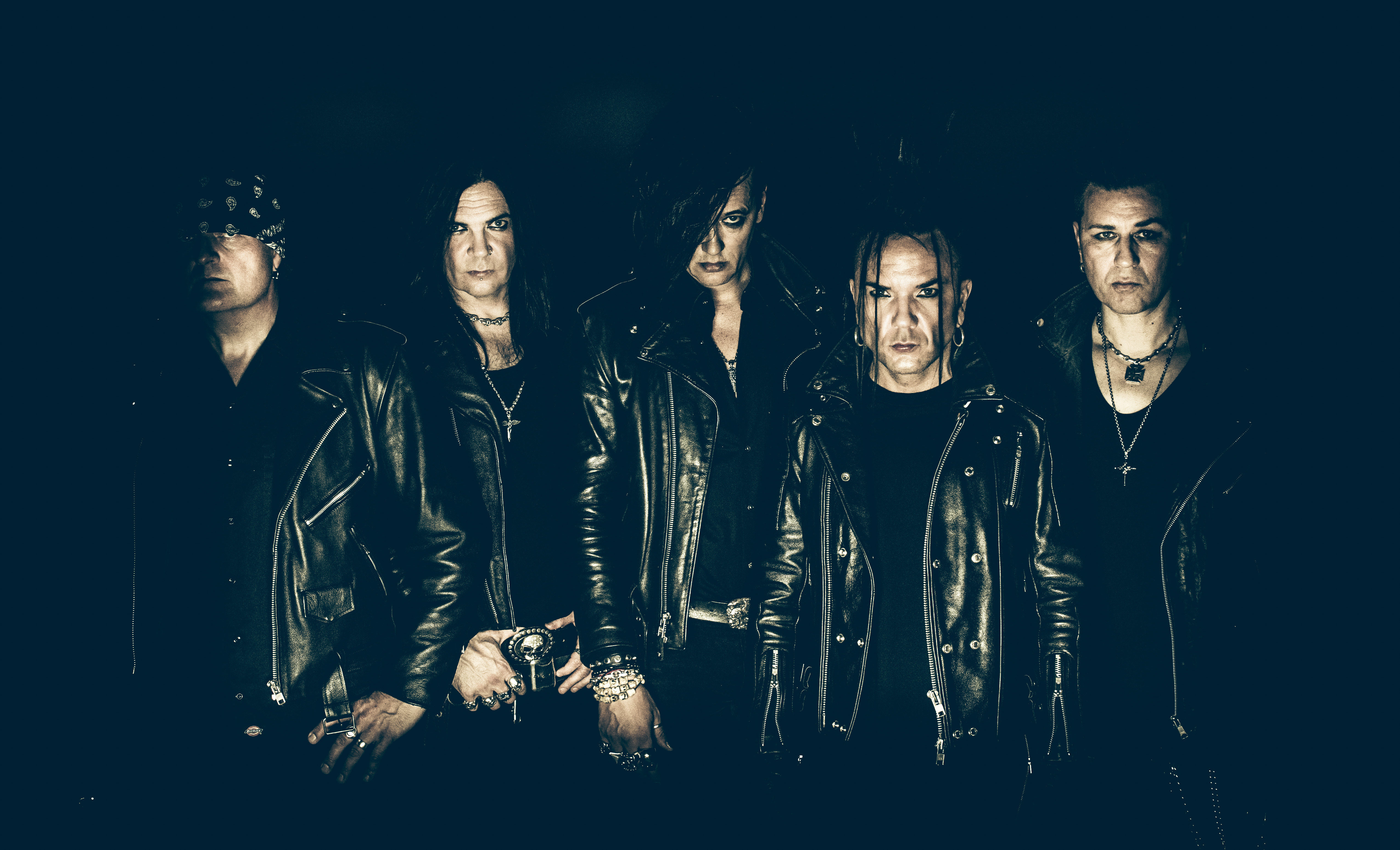 Finland's goth'n'roll band The 69 Eyes dropped their new album, Universal Monsters, in April, and have been actively touring since. "Helsinki vampires" have just finished criss-crossing their homeland and set out on a major European touring leg, when AlteRock called drummer Jussi 69 to chat about the album, the band's plans for 2017 and to ask Jussi about his favorites…
October 10, 2016
Previous album X came out in 2012, which is 4 years from now. Why such a long time in between? What was the band busy with over the past 4 years?
Well, a small part of it is actually my fault 'cause I took part in the Finnish version of the TV show American Idol. I was in the jury for that and it took 7 months to film that. And then it was all over the place in Finland, of course. It was on TV every other day. And you know how record companies think: okay, now it's the time to put out 'The Best of' and some hit singles from that. So that's what we did: it was, kind of, the new album from The 69 Eyes. And after the tour we started writing the songs for Universal Monsters.
On the new album you worked with producer Johnny Lee Michaels, who had also produced your album Blessed Be. How did it change the recording process, compared to the previous two albums?
We got fed up of commercial thinking of record companies asking us if we have any radio hits, blah blah blah. We wanted to go back to our roots where we felt we made the best albums The 69 Eyes have ever made. And those were the ones we did with Johnny Lee Michaels. We're talking about Blessed Be, Angels and Devils. There's some kind of magic between Johnny Lee Michaels and us. He's like the sixth vampire. He has the same kind of thinking as we have. We wanted to go back and not think of any radio-friendly hits, we wanted to do something we are known for and exactly the way we wanted to do it.
I know that for Jyrki the new album, Universal Monsters, summarizes in a lyrical form his travelling impressions, right?
Well I guess every album has one or two songs about cities or countries, what we or at least Jyrki has experienced. For example, we have a song 'Feel Berlin' and songs about France. Of course, when it comes to lyrics, it's always about what Jyrki has been reading or watching or where he's been. She's sucking it all in, and it comes out on the record.
And for you, what is the message of the record? Does it have any personal significance to you?
There's a lot of influence of New York punk rock scene, like New York Dolls and all that happened in the seventies. It's been months and months from the release and now I think it's pretty dark, when it comes to lyrics. And of course, there is some almost funny songs, like 'Miss Pastis', which is actually a real person (laughs). But it's really dark if you think of songs like 'Shallow Graves'.
In a recent interview you said that you didn't want this record to be polished and flawless. You said: "If you make a mistake, leave it there. It's rock'n'roll." Do you also apply this principle when you're onstage?
When I go to see my favorite bands, I don't expect to watch and hear perfect musicians. I think the most interesting thing is, for example, when the drummer makes a mistake. It's interesting to see how he comes out of this situation. That's what is really fascinating and exciting for me.
And I also work at the radio station Radio Rock, and we play a lot of American hard rock bands, and they all sound exactly the same, especially nowadays. They have the same guitar sound, same drum sound, and everything is almost too perfect. It's so easy to computerize and make every note almost perfect. And don't get me wrong, I like those bands but if you listen to bands like Papa Roach and Nickelback and all those bands on the radio, they really sound the same. We didn't want to polish our record, we wanted to make a rock'n'roll record the way it used to be done in early eighties. And I think we succeeded in that.
Have there been any unexpected situations on current tour yet? How did you overcome the obstacles?
We haven't had any problems. I mean there's always something unexpected in this profession, that's why it's never boring. You basically know what's going to happen next year, but it's always like, in a few months everything is going to change. But that's music business. I like it that way.
Do you believe the band's shows have changed, compared to those on X tour?
Yeah, yeah we try to change the setlist quite often to make it more interesting for us to play. And of course, there's always at least five songs that we have to play at every show, because that's what the fans want to hear, for example, 'Lost Boys'. And I don't have any problem with that. I love those songs. And I'm happy that we have so-called classics that we have to play the rest of our lives. I mean, if we didn't have those, where would we be? So I'm not going to complain about it.
What has been the highlight of this tour so far, for you personally?
I think the highlight is going to be when we are going to Russia, because we're going to cities we haven't been before. Russia has been a very good place for us. Since the first time we went there, we were blown away: "Oh wow, there are so many fans! So many people are into our music!" And now it's been about 15 years since we came to Russia for the first time, maybe more. And it's still the same – it's always so much fun to go to Russia.
You have many fans who have been following you for 25 years. Are there any fans who you already know very well personally?
Yeah, there are lots of people who keep following us. I always talk to them and I'm happy to hear what's going on in their lives. There's so many people I know by name, where they are from, what they do for a living. They've probably seen 200 shows of The 69 Eyes over the past 20 years.
What's on the band's agenda for early 2017?
We're going to tour until the end of the year, then we're going to take January off and we'll start touring again in February until the festival season, summer 2017.
So it's going to be a really packed year for you guys… It must be hard to be on the road for so long?
Yeah, well we are used to that. So it's pretty natural for us.
Can you imagine yourself living in some other country?
Actually, I already did that. I lived in Germany, in Hamburg in the early 2000s. Probably most of the time abroad apart from Hamburg I spent living in Los Angeles: that's a really great city, I love that place. But you may lose yourself if you start partying too much.
You're an active and busy man in many aspects, not only as part of The 69 Eyes. For those who only know you as the band's drummer, could you tell what other projects or jobs you do?
As I said I'm sitting now in a Radio Rock studio doing my show. This is another passion for me: I have my own show on the biggest radio station in Finland. The other things are almost like a hobby for me. I have my own bar in Helsinki called The Riff: after hanging out in two million rock bars all over the world and dj-ing in so many bars and clubs, I always thought, "Maybe I should come up with my own bar?" It's fun, and there's actually so many rock tourists every day who come just to see the place and the stuff on the wall; so many people from Mexico to to Russia to Japan who come to see pictures of Ville Valo or Children of Bodom's Aleksi Laiho's guitar.
I so have to visit this place next time I'm in Helsinki.
You absolutely do. I also have another band, the local band with the guitar player/singer Aleksi Laiho, the singer of Reckless Love and Archie, the guitar player/singer from Santa Cruz. We wanted to do just one show but it was so much fun that we decided to tour regularly: in our case it means that we do one show a year. And we try to do it at so many excting places. The fourth show was in Japan and we played in front of 26,000 people with Negative, Slayer and Anthrax.
Jussi 69 plays AlteRock's "favorite" section
Favorite season:
Summer. Jyrki loves winter when it's cold and dark but I'm the summer person.
Favorite time of the day:
Midnight. I hate mornings. I try to do everything at night time. Like this interview. Maybe it's because of all this touring: you have to be full of energy and adrenaline by midnight when you go on stage. So in the morning it's like "I don't feel like doing this or doing that", but by midnight I write like 200 emails, come up with so many ideas and projects. That's when I get inspired the most.
Favorite smell:
(laughs) A girl after the shower and a morning coffee. Together it's even better.
Favorite dish:
That's hard 'cause I always eat the same thing for like two months in a row (laughs). Whenever there's an Indian place, I go there to have some dinner for like two months. Then I get sick of it and I eat burgers for two months (laughs). It's weird. Well, I'm a big burger fan, but I do try to eat healthy too, so I try to stay away from junk food. But the burger is not so bad: just skip the French fries and have some salad.
Favorite city:
I have so many favorite cities. Right now I would say Tokio, Los Angeles, Rio De Janeiro, Moscow and most of all, Helsinki.
Favorite country abroad:
I never really thought about it 'cause I travel so much. I like it anywhere. Whenever I'm healthy and I have some rest, I'm happy.
Favorite word or expression:
Love. You can use it in different ways. I love my job. I love my life. I love Moscow city night. And I love to have a cold bear and a really good hamburger (laughs).
Favorite social network:
Maybe Instagram: it's easy and you can use it in so many ways. You can tell in a couple of words how you day was, what's going on and have a picture with it. I'm also on Facebook, of course, but I never use for what-i-ate-for-breakfast kind of thing. I'm not a big fan of Twitter and all the new things. Maybe I'm too old for that. Today I saw 200 kids running all over the place, and I was thinking: what the hell is going on? And then I realized they were playing Pokemon Go. I don't get it.
Favorite album of your band:
I'd say Devils. That sums up everything. That's the first time everything went exactly how it should have been. I think it's the perfect The 69 Eyes album.
Photo credit: Nuclear Blast
AlteRock would like to thank The 69 Eyes management for organizing this interview.