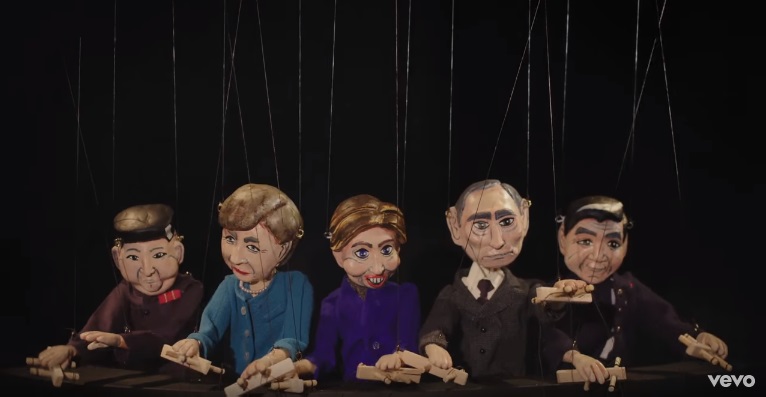 Mystery of the band's logo, the Deathbat, popping up worldwide has been revealed…
October 14, 2016
Avenged Sevenfold hadn't released new music since their 2013 album Hail To The King, so it's not surprising fans were enthralled, when the band's iconic logo, the Deathbat, started popping up on the walls and roofs of buildings and billboards in Toronto, Berlin and London.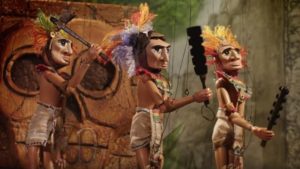 Turns out, the band did tease new material: A7X have just released a new song. 'The Stage,' and premiered a music video for it. The clip is a real masterpiece telling "the fascinating history of the world" in an animated form. It's the narrative of wars and conflicts throughout the centuries, crowned with a marionette puppet show showing how politicians gather to negotiate and handle people's lives.
But instead of sharing with you our thoughts on what the button in the culmination of the video represents, we'd like you to watch the video for yourself and draw your own parallels and conclusions. Be sure to check out the clip below and share your thoughts in the comments.
More: A7X's Deathbat Logos Pop Up Worldwide – check out the fan's pictures
There's no doubt that most A7X fans are hoping for more than just a single release… And they are right. Earlier guitarist Zacky Vengeance posted a tweet, "October is a reason to celebrate," and now we know that fans can expect a full-length album from the band.
The title of the album will be officially announced during a special live event on October 27. But fans have been digging for it very thoroughly and found some clues that the record will be called Voltaic Oceans.
This "leaked" title was immediately refuted by Chris Jericho, and if you go to a newly-launched Deathbot website and enter the "leaked" title "Voltaic Oceans", the creepy skull on the screen will answer you: "I bet you feel like the smartest ape." Ask him a direct question like: "What's the title of the new album?" and all you'll get from the skull is "Okay. What else would you like to talk about?" You can "have a word" with the skull-bot at this location.
A7X started teasing new music earlier this year, in April but since then they hadn't updated us on whether they are progressing with writing a new album. The group played a few festivals this past summer and toured with Volbeat and Killswitch Engage.
New single, 'The Stage', can be downloaded via iTunes or streamed on Spotify and Apple Music. Be the first to leave your comments and stay tuned with Alterock Facebook and Twitter to never miss on the news about your favorite alternative music!