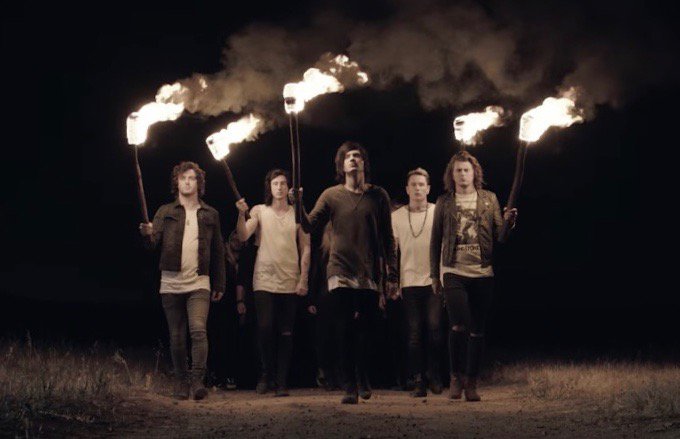 The band's 'Famous Last Words' cover is featured on Black Parade tribute album
September 16, 2016
As you probably know by now, Asking Alexandria have recently recorded their take on My Chemical Romance's dramatic track 'Famous Last Words,' which landed on Rock Sound's Black Parade tribute album. Now you can officially stream Asking Alexandria's version of MCR's hit (give it a listen below).
Here is the full track listing of Rock Sound's Black Parade tribute album:
01. The End. – ONE OK ROCK
02. Dead! – Escape The Fate
03. This Is How I Disappear – Creeper
04. The Sharpest Lives – State Champs
05. Welcome To The Black Parade – Crown The Empire
06. I Don't Love You – Moose Blood
07. House Of Wolves – Palisades
08. Cancer – Twenty One Pilots
09. Mama – Ghost Town
10. Sleep – New Years Day
11. Teenagers – Against The Current
12. Disenchanted – Chunk! No, Captain Chunk!
13. Famous Last Words – Asking Alexandria
But there's more fresh covers from Asking Alexandria guys. In addition their take on MCR, the band has released their cover of Slipknot's track 'Duality.' You'll find Asking Alexandria's rendition of 'Duality' on Metal Hammer's Decades Of Destruction cover album. The record marks Metal Hammer's 30th anniversary.
And hey, here is something you might have forgotten, AA fans! The band's debut album Stand Up and Scream has just celebrated its 7th anniversary! The record came out on September 15, 2009. Pour the champagne!
Listen to both new covers from Denis Stoff and Co. below and let us know whose version of the songs you like best. Be the first to leave your comments and stay tuned with Alterock Facebook and Twitter to never miss on the news about your favorite alternative music!
https://youtu.be/GyRqTBOcqK8