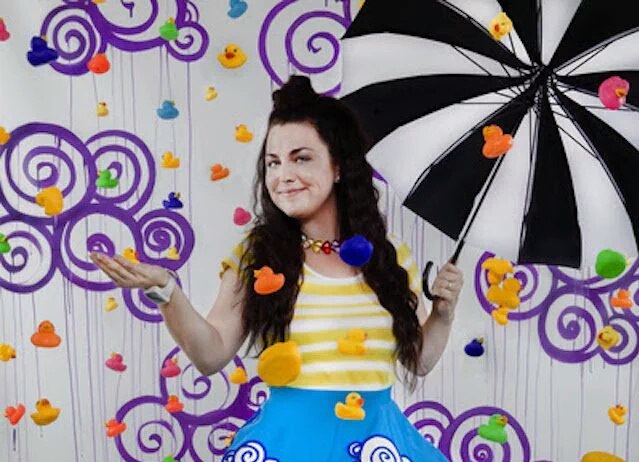 Lee's family members, including her 2-year-old son Jack, also took part in the album recording
August 18, 2016
This is the most unusual role Amy Lee has appeared in throughout her rock career – children's album, Dream Too Much. The 12-track record will be launched September 30, exclusively via Amazon Music. You can hear the title track, 'Dream Too Much', below. The video for the song is coming up, which Lee made clear in her latest tweet.
Not only does the album contain original children's songs and classic tunes but also covers of world hits, including, for instance, the Beatles' 'Hello Goodbye.' And it's not only Evanescence diva's voice you'll hear on the record. Lee's family members, including her 2-year-old son Jack, also took part in recording Dream Too Much.
Introducing the children's album, Lee explained how personal it is to her: "My husband and I had our first baby in 2014, and he has been the center of the inspiration for this children's album," says Amy Lee. "Every song on this album has a story — whether it's an original for our son based on his favorite things, or a song my dad used to sing to me when I was a little girl. I can't begin to tell you how fulfilling this project has been," said the singer.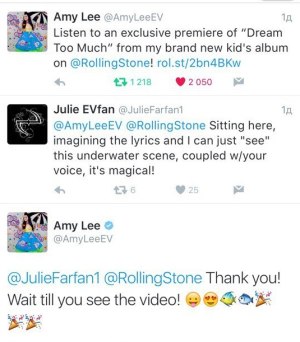 Some fans have been worried whether Amy Lee is going to leave rock behind and switch to kids music altogether. Commenting on that, she recently told Rolling Stone that kids shows are not part of her plans:
"Like traveling around with a family band? I'm not saying no but, that's not really my plan. Who knows, maybe I'll be the next Raffi. I can imagine us doing some isolated performances here and there but I think, really, I'm going to focus on the next thing being … more centered around my adult music career."
Dream Too Much can be purchased and downloaded in mp3 format. Pre-orders of the digital version are already available. Be the first to leave your comments, share the article, and stay tuned with Alterock Facebook and Twitter to never miss on the news about your favorite alternative music!
Dream Too Much Tracklist:
1. "Stand by Me"
2. "Dream Too Much"
3. "Bee and Duck"
4. "I'm Not Tired"
5. "Little Bird"
6. "Alice"
7. "Rubber Duckie"
8. "Hello, Goodbye"
9. "Donkey and Chicken"
10. "The End of the Book"
11. "If You're a Star"
12. "Goodnight My Love"