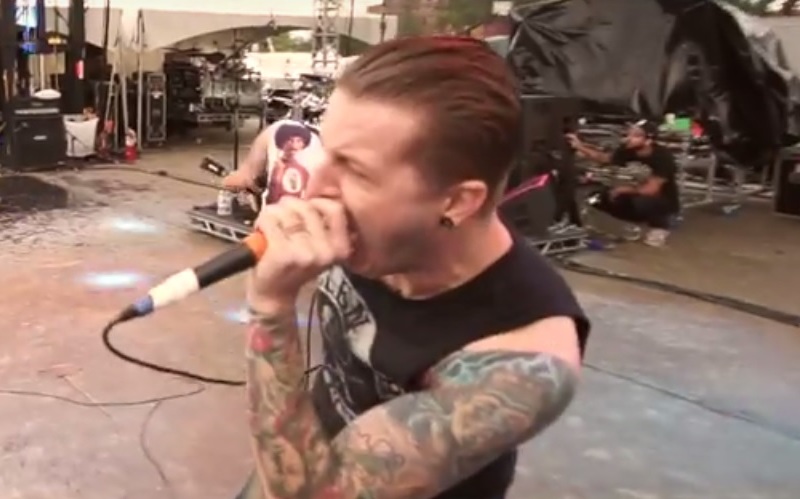 Atreyu have premiered a performance video for 'A Bitter Broken Memory', which gives fans a sneak peek of how the band prepares for the show
February 12, 2016
Atreyu are soon embarking on a tour in support of their album Long Live, and after watching their new video 'A Bitter Broken Memory' you will understand why it is worth checking them out live on tour. 'A Bitter Broken Memory' is a powerful concert video, which shows the band give the audience 100% of their energy onstage. Plus, you will get to see many interesting backstage moments of the band's preparation for the show, such as doing push-ups and squats.
The new video contains live footage from different shows Atreyu played last year and, according to the band, "essentially shows a bit of the journey that long live has had so far. From being In the studio, to playing club shows to playing in stadiums. We wanted to give our fans a little view of what we've been doing for the last year and what this record has done for us.", explains Atreyu vocalist/drummer Brandon Saller (via Billboard).
Atreyu's latest album Long Live marked the band's first new music after years of hiatus. Speaking of the rougher sound of the new tracks, Atreyu singer Alex Varkatzas shared earlier how happy he was doing such in-your-face vocal parts, "Absolutely no melodic vocals on my end. AMEN! Happy to get back to my roots and still bring some new tricks."
Atreyu U.S. tour, which starts on March 4, is a co-headlining tour with Devil You Know. The tour route will run through March 19. See all the dates below.
Watch the new Atreyu video below. Be the first to share your thoughts in the comments, and join Alterock Facebook and Twitter to stay tuned for rock and metal news.
Atreyu / Devil You Know March 2016 Tour Dates
3/4 — Bakersfield, Calif. — The Gate
3/5 — San Diego, Calif. — The Observatory North
3/6 — Costa Mesa, Calif. — Orange County Fairgrounds
3/7 — Flagstaff, Ariz. — Orpheum Theater
3/8 — Farmington, N.M. — Top Deck
3/10 — Ft. Worth, Texas — The Rail Club
3/11 — Houston, Texas — Scout Bar
3/12 — Pensacola, Fla. — Vinyl Music Hall
3/13 — Atlanta, Ga. — The Masquerade
3/14 — Memphis, Tenn. — New Daisy Theatre
3/16 — San Antonio, Texas — Alamo City Music Hall
3/17 — Lubbock, Texas — Depot Patio
3/18 — El Paso, Texas — Tricky Falls
3/19 — Phoenix, Ariz. — Ak-Chin Amphitheater – 98KUPD Presents UFEST