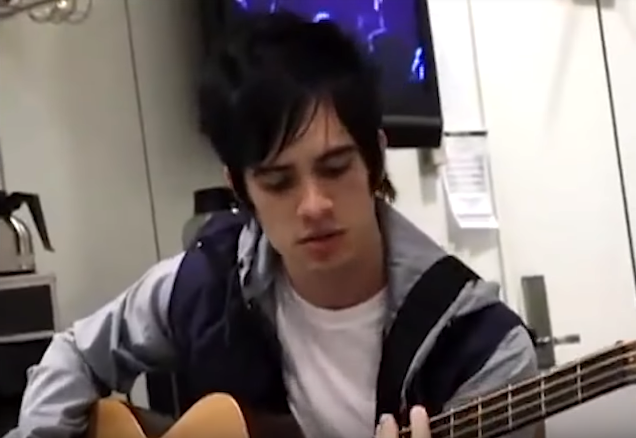 "I wouldn't leave my house for weeks," says Brendon Urie about the band's first split
October 24, 2018
The past three years have proven triumphal success for Panic! At The Disco, whose driving force has always been "energizer" Brendon Urie. But Rome wasn't built in a day, and PATD had been through quite a lot of ups and downs . By "downs" we mean actual band splits and fundamental changes in the line-up from year to year.
In the new episode of Neighbourhood Of Good, Urie has opened up about his state of depression after the first Panic! At The Disco split. The singer told State Farm that the departure of Ryan Ross and Jon Walker from the band had a long-lasting impact on him. Generally, happy and cheerful, Urie found himself "very depressed."
[quote align="center" color="#COLOR_CODE"]
"The first split that Panic! Had, I was very depressed. I sometimes wouldn't leave my house for weeks," says Urie.
One of my greatest friends and greatest mentors Rob Mathis, he said "dude, just show up. If you just show up, things will happen- this isn't about you. Get out of your head. And I just started showing up to the places that people were asking me to go and great things started happening.
You know what matters? People being happy," the singer concludes.
[/quote]
The vocalist of PATD appears in the State Farm's series of videos as a mentor for young musicians. In this new, third episode we see Urie at the Boys and Girls Club, not singing but drumming to some spontaneous rapped rhymes and mentoring musicians-to-be.
Watch the heartfelt video below:
The band has also recently announced the new portion of dates on their Pray For The Wicked Tour. On this North American tour Panic! At The Disco will be supported by Two Feet.
Do you like what we're doing? If so, help us grow by sharing the article – this way we can keep providing you latest news and fun interviews with your favorite bands! Stay tuned with AlteRock Facebook and Twitter to never miss on the news about your favorite alternative music!