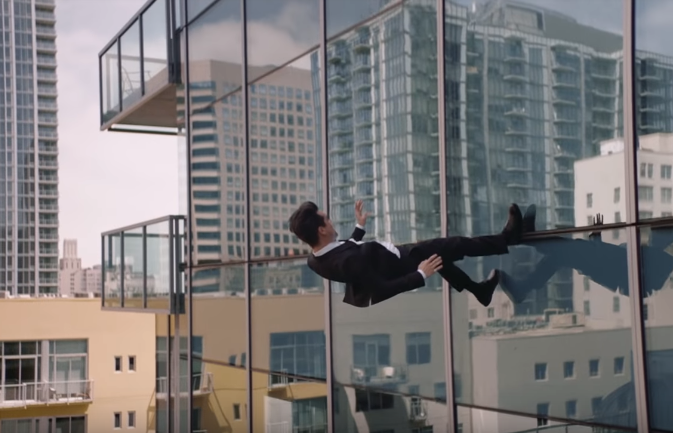 Watch Brendon Urie scale the skyscraper in the new video for the life-asserting track
August 27, 2018
Has Brendon Urie ever made a bad music video? Nothing comes to mind really. And the new video for the optimistic song 'High Hopes' also totally lives up to our expectations.
In the new clip we see frontman singer Brendon Urie ignoring the laws of gravity and scaling the tall building all the way to the top, where he finds his band and performs with them on the roof top. "Didn't know how but I always had a vision," sings Urie, talking about how your wildest dreams can materialize if you walk this life being believing that one day they will.
The video for 'High Hipes' picks it up from Urie's VMAs performance, where he also showed off wonders of overriding gravity. In case you've missed it, check it out here.
Watch the impressive life-asserting video below. Here's what Urie says himself on the message of the visuals:
[quote align="center" color="#COLOR_CODE"]"No matter how hard your dreams seem, keep going. You might even have to climb up the side of a building in downtown LA, but it'll all be worth it at the top. Stay up on that rise."[/quote]
You can find 'High Hopes' on the band's latest album, Pray For The Wicked, and get the album here. Panic! At The Disco will be doing the second leg of Pray For The Wicked tour in January and February 2019 (with Two Feet opening for them). Be sure to catch the band live on one of the tour dates below!
Do you like what we're doing? If so, help us grow by sharing the article – this way we can keep providing you latest news and fun interviews with your favorite bands! Stay tuned with AlteRock Facebook and Twitter to never miss on the news about your favorite alternative music!
Panic! At The Disco Winter 2019 Tour Dates:
01/10 – Buffalo, NY @ KeyBank Center
01/12 – Laval, QC @ Place Bell
01/13 – Manchester, NH @ SNHU Arena
01/15 – Albany, NY @ Times Union Center
01/16 – Brooklyn, NY @ Barclays Center
01/18 – Newark, NJ @ Prudential Center
01/19 – Providence, RI @ Dunkin' Donuts Center
01/20 – Washington, D.C. @ Capital One Arena
01/22 – Charlotte, NC @ Spectrum Center
01/23 – Charlottesville, VA @ John Paul Johns Arena
01/25 – Nashville, TN @ Bridgestone Arena
01/26 – Cincinnati, OH @ U.S. Bank Arena
01/27 – Milwaukee, WI @ Wisconsin Entertainment Center
01/29 – Grand Rapids, MI @ The Van Andel Arena
01/30 – Cleveland, OH @ Quicken Loans Arena
02/01 – Omaha, NE @ CenturyLink Center
02/02 – Kansas City, MO @ Sprint Center
02/04 – Rosemont, IL @ Allstate Arena
02/05 – Saint Louis, MO @ Enterprise Center
02/06 – Memphis, TN @ FedExForum
02/08 – Austin, TX @ Frank Erwin Center
02/09 – New Orleans, LA @ Smoothie King Center
02/12 – Albuquerque, NM @ Tingley Coliseum
02/14 – Anaheim, CA @ Honda Center
02/15 – Inglewood, CA @ The Forum
02/16 – San Diego, CA @ Valley View Casino Center
02/19 – Oakland, CA @ ORACLE Arena
02/20 – Sacramento, CA @ Golden1 Center