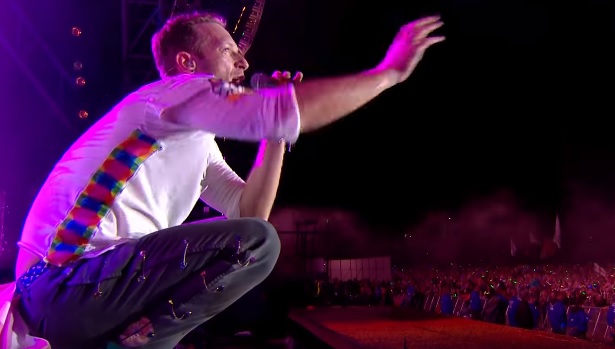 Coldplay pulled in an average of 2 million viewers for Glastonbury coverage, Muse outperformed themselves by 53% on BBC
June 29, 2016
Glastonbury festival has broken the record on BBC, with 18.7 million viewers watching the live stream from the festival stage over the weekend. (The show was repeated later on BBC Two.) The massive festival took place at Worthy Farm in Pilton, Somerset and had Coldplay and Muse among its headliners.
Coldplay gathered more than enough viewers to break a Sunday headline slot record, peaking at 3.4 million viewers and an average of 2.0 million, NME reports. To compare, their Glastonbury 2015 appearance on Saturday night pulled in 1 million viewers, so the band has not just doubled but at times tripled their last year's "score". See their performance of 'Adventure of a Lifetime' below:
https://youtu.be/KvhT9FpeDOg
Jeff Lynne's ELO broke another record by beating Lionel Richie (1.71 million viewers in 2015) in Sunday's "legend" slot with a shocking 2.4 million viewers.
On Friday night the festival headliners were Muse but they didn't attract as many viewers to follow their live stream. During the live broadcast their viewing average was 346,000 and a bit more, 420,000, when the show was repeated. But Muse still enjoyed a 53% increase in their audience compared to their previous Glastonbury performances.
The festival also boosted Muse's chart positions: the trio re-entered the British chart at #15 with their latest album Drones (via NME). Meanwhile Coldplay are dwelling at #6, but after Chris Martin and his bandmates had covered Viola Beach's song 'Boys That Sing' at the festival, Viola Beach's streams on Spotify have risen by staggering 6,148%.
We'll remind you that the musicians of Viola Beach lost their lives this year in a tragic car accident in Sweden. Coldplay's frontman introduced the track by saying, "We're going to create Viola Beach's alternative future for them and let them headline Glastonbury for a song." The band's 9-track album will be released July 29 via Fuller Beans Records label.
Share your thoughts in the comments, and join Alterock Facebook and Twitter to stay tuned for rock and metal news.
Well done @coldplay !
A fantastic tribute. #VIOLABEACH https://t.co/dfRPeTYSzc

— William Cranor (@wcranor) June 26, 2016