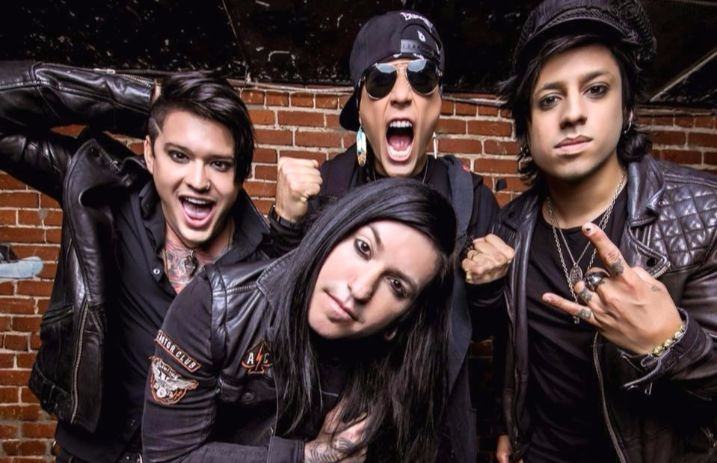 "I felt like I was 17-years-old again," says frontman Craig Mabbitt on recording the new album
November 2, 2017
Ta-daa! Escape The Fate's fans have been rubbing their hands since the start of this year in all wait for the official announcement of the band's new record. And here it comes! The group's sixth album, titled I Am Human, will be released in February and here is the first taste of it – a fresh, powerful track 'Empire.' Give it a listen in the lyric video below!
The band's guitarist Kevin Thrasher sees the song as their "own party anthem with a dark undertone," while vocalist Craig Mabbitt adds that writing the album threw the band back to the roots: "We're getting older, and we're changing—so our music should change with us. At the same time, we rediscovered what made us who we are. I felt like I was 17-years-old again. I haven't been this excited to release something since I first joined the band and we put out This War Is Ours."
At the beginning of this year, the frontman already revealed the record was going to be off the beaten track. "We're really gonna go outside the box," Mabbitt said. "Me having Dead Rabbitts as an outlet to do stuff that's more [for] me and [more heavy] just opens up the ability to be more outside the box with Escape The Fate. Every record in the past it's always been, let's do a ballad or let's do a heavy song. And I feel like sometimes that has cost us a song or two here and there. Now we're just going to go in and we just wanna write good music." (via Alternative Press)
The new album, I Am Human, arrives February 16. The group's previous record, Hate Me, came out in 2015. At the moment, Escape the Fate are touring with I Prevail on the Rage On The Stage Tour. If you still haven't grabbed your ticket, here is the full list of tour dates below.
Listen to "Empire" below:
Escape the Fate Fall 2017 Dates:
NOV 4 – Plaza Live – Orlando, FL
NOV 5 – The Ritz Ybor – Tampa, FL
NOV 7 – Warehouse Live – Houston, TX
NOV 8 – Bomb Factory – Dallas, TX
NOV 9 – Vibes Event Center – San Antonio, TX
NOV 10 – Tricky Falls – El Paso, TX
NOV 12 – Novo – Los Angeles, CA
NOV 13 – Regency – San Francisco, CA
NOV 15 – Brooklyn Bowl – Las Vegas, NV
NOV 16 – SOMA – San Diego, CA
NOV 17 – Marquee Theater – Tempe, AZ
NOV 19 – The Complex – Salt Lake City, UT
NOV 21 – The Truman – Kansas City, MO
NOV 24 – The Masonic Cathedral – Detroit, MI
NOV 26 – The Intersection – Grand Rapids, MI
NOV 28 – Stage AE – Pittsburgh, PA
NOV 29 – Newport Music Hall – Columbus, OH
DEC 1 – Cotillion – Wichita, KS
DEC 2 – 7 Flags – Des Moines, IA