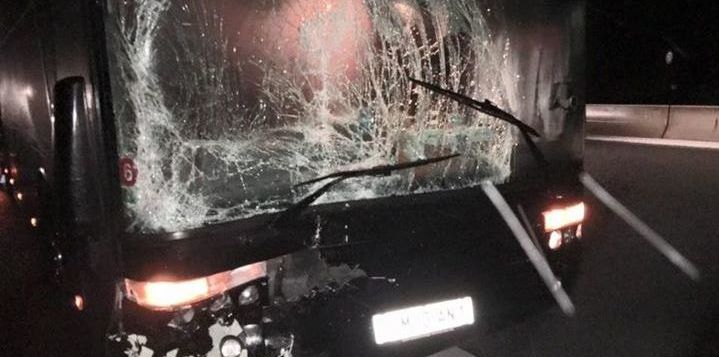 The band is ok but 'just a little shaken up' after their tour bus got involved in an accident and got frontal damaged on the way to Munich
November 25, 2015
On the road to Munich, Germany, the band got into in a bus crash in the snow early in the morning. The band members are all fine, which you can't say about the the tour bus, though. The band has just posted an update that the damage looks big but not too serious, adding that the bus will be fixed and returned to them in a week.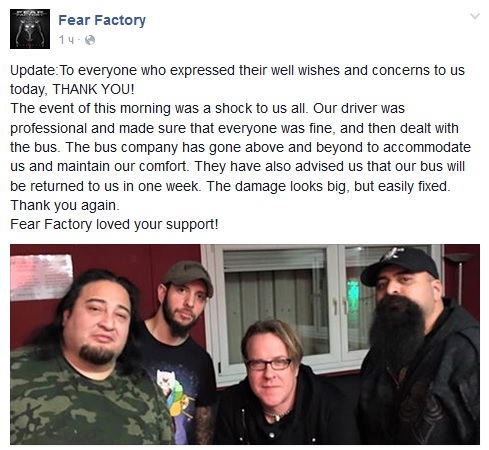 Earlier today, the rockers took to their Facebook page to post a photo of their damaged bus. The accompanying message reads, "We just left Aschaffenburger, Germany heading our way to Munich and we were just involved in a bus crash. Everyone is OK just a little shaken up. It doesn't help when it's 4:30AM and snowing outside!" The windshield has been shattered and the passenger side of the bumper is mangled, but the wreckage is negligible considering what else could have happened.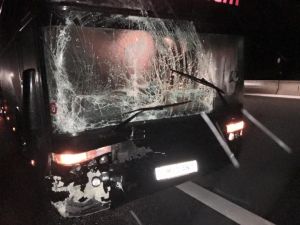 Fear Factory are currently rocking European venues in support of their 20th anniversary since the release of Demanufacture. Be sure to leave us your comments below and stay tuned with Alterock Facebook and Twitter to never miss on the news about your favorite alternative music!
More: DEATHSTARS' tour bus catches fire and explodes in Italy (click here)