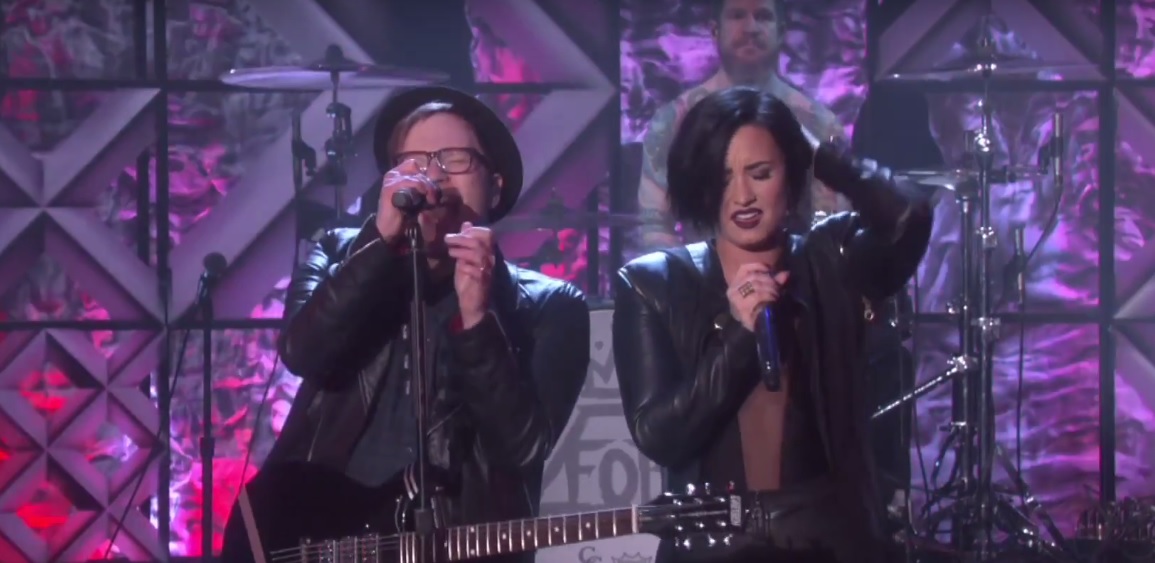 Check out Demi Lovato & Fall Out Boy perform 'Irresistible' live for the first time on Ellen Show
February 16, 2016
You've been waiting for it! Demi Lovato & Fall Out Boy have rocked 'Irresistible' live on Ellen Show. The video was launched on Youtube today, and it's the first time Demi Lovato joins Fall Out Boy onstage to perform 'Irresistible' (watch below), so be sure to check it out below.
In the video, Fall Out Boy's singer Patrick Stump surely delieveres great vocals for the song, while Demi Lovato's microphone probably wasn't tuned as good: she starts off a bit shaky and then works hard on overpowering the instruments. Lovato nails the high pitch notes and at certain moments the vocal duo sounds just like it should. Overall, however, there's a bit too much of Lovato's screaming and a bit too little harmony of Stump and Lovato's voices.
As to other fresh Fall Out Boy news, Patrick Stump has been noticed in the studio with Blink-182's Mark Hoppus and famous producer John Feldmann. Mark Hoppus posted their photo together through his Instagram page (see below). Whether it's a teaser to some collaboration or guest appearance on one another's records, we will probably find out soon. Blink-182 are working on their upcoming album, but Fall Out Boy have also been writing some new material lately.
What do you think of Fall Out Boy's performance of 'Irresistible' with Demi Lovato? And what do you think the band is up to with Blink-182? Share your thoughts in the comments, and join Alterock Facebook and Twitter to stay tuned for rock and metal news.