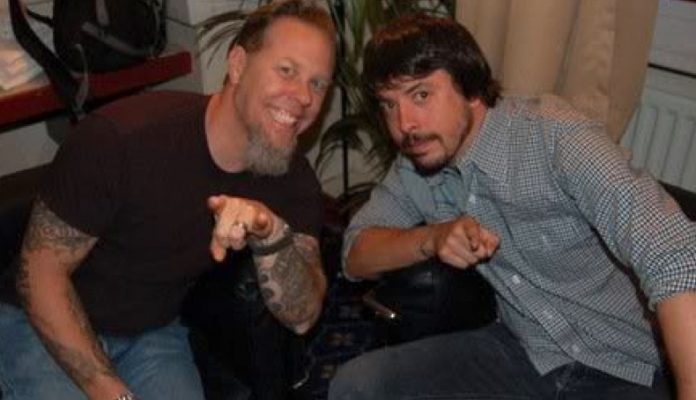 Despite all expectations, Metallica missed out in both categories, Best Rock Song and Best Rock Album
January 30, 2018
The 60th Grammy Award ceremony, which took place this past Sunday in Madison Square Garden in New York, as usual had a few quite unexpected wins that raised a lot of follow-up questions.
The biggest shock of the night was Metallica leaving the ceremony without any award, despite two well-deserved nominations. Metallica's latest album, Hardwired… To Self-Destruct, is considered by many critics and fans the band's strongest record in about 15 years. Yet, the Best Rock Album statuette went to a considerably less known and much younger indie band War On Drugs. While only a deaf didn't hear about Metallica's triumphal new record, War On Drugs was apparently singled out and voted for by Recording Academy members.
Now to Best Rock Song category, where it gets even more controversial. Last year, Metallica was one of the nominants too, with their single 'Hardwired' from the same album. However, the Academy decided to award the late David Bowie's 'Blackstar' in this category, as well as in some other fields.
This time, Metallica was nominated for the song 'Atlas, Rise!', which many believed also had a chance, but it was Grammy's favorite Foo Fighters who scooped the Best Rock Song award for their track 'Run'. On top of it, Foo Fighters's Greg Kurstin got the statuette for the Producer of the Year of non-classical genre.
Fruitful year for Dave Grohl and Co., wasn't it? However, because of the current tour in Australia and New Zealand, Foo Fighters didn't even attend the Grammys. And not only them. Avenged Sevenfold boycotted the ceremony and not without a reason. The band was seriously disappointed when it was revealed that they won't even telecast the Best Rock Song category.
"Hotels, planes, flights for the wives, tickets for the event – the whole thing for them to go would cost $150,000," commented frontman M. Shadows in the interview with Eddie Trunk. "And then they go and pull the 'Rock Song of the Year' award from TV and put us in some side venue no one gives a fuck about? Fuck that waste of time and money. No respect. I mean, how marginalized has rock become when 'Rock Song of the Year' can't get two minutes?"
To less surprising wins, Grammys paid tribute to the late Leonard Cohen and gave him an award for Best Rock Performance for 'You Want it Darker'. Cohen's song's rivals were Chris Cornell's 'The Promise' and Foo Fighters' 'Run'. If you haven't heard Cohen's winning track yet, hear it below:
As to metal field, Mastodon won the Best Metal Performance award for their track 'Sultan's Curse' from album Emperor of Sand, leaving behind August Burns Red, Code Orange and Meshuggah. Haven't heard 'Sultan's Curse' yet? Give it a listen below!
See all the rock and metal winners in the list below. Do you agree with the Grammy 2018 results? Share your thoughts in the comments, and join AlteRock Facebook and Twitter to stay tuned for rock and metal news.
The rock winners were as follows:
BEST ROCK PERFORMANCE
Leonard Cohen – 'You Want It Darker' – WINNER
Chris Cornell – 'The Promise'
Foo Fighters – 'Run'
Kaleo – 'No Good'
Nothing More – 'Go To War'
BEST ROCK ALBUM
Mastodon 'Emperor of Sand'
Metallica 'Hardwired… To Self-Destruct'
Nothing More 'The Stories We Tell Ourselves'
Queens of the Stone Age 'Villains'
War On Drugs 'A Deeper Understanding' – WINNER
BEST ROCK SONG
Metallica 'Atlas, Rise!'
K.Flay 'Blood In The Cut'
Nothing More 'Go To War'
Foo Fighters 'Run' – WINNER
Avenged Sevenfold 'The Stage'
BEST METAL PERFORMANCE
August Burns Red 'Invisible Enemy'
Body Count 'Black Hoodie'
Code Orange 'Forever'
Mastodon 'Sultan's Curse' – WINNER
Meshuggah 'Clockworks'