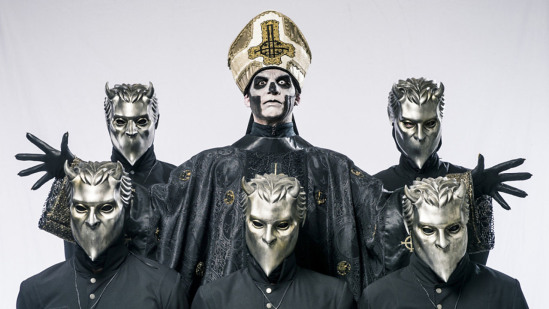 Grammy nominees 2016, Ghost, have announced the dates for their Spring US Tour and proved with a new trailer they take their Grammy nomination with all seriousness
January 12, 2016
Ghost, who recently got nominated for a Grammy Award in the category Best Metal Performance for their single 'Cirice', seem to take the nomination very seriously. They have put out a trailer, promoting themselves as Grammy nominees, saying "We are heard. Our hour has come." The band's US tour dates for this spring have been announced and that is yet another opportunity for Ghost to promote the honorable nomination to American audience.
In the award-boosing trailer a female voice states, "Give us your golden idol to melt into unholy fact." The video also mentions Ghost's competitors in the category, Slipknot, Lamb of God and August Burns Red. Let's see if masked musicians do take home the golden idol they wish for so bad. The Grammy 2016 ceremony will be broadcast Feb. 15 at 8PM on CBS. See Ghost's new promotional trailer below.
After the winter holiday break, Ghost are ready to jump back on tour with a row of European dates to come and then will head to the U.S. for another leg of shows beginning April 13 in Montclair, NJ. Tickets will go on sale Jan. 15 at 10AM local time.  See all the US tour dates below.
Do you think Ghost will win the Best Metal Performance Award at 2016′ Grammy ceremony? Share your thoughts in the comments below, and join Alterock Facebook and Twitter to always be in the know about your favorite rock bands!
Ghost US Spring 2016 Tour Dates:
4/13 – Montclair, N.J. — The Wellmont Theater
4/14 – Stroudsburg, Pa. — The Sherman Theater
4/15 – Long Island, N.Y. — The Paramount
4/16 – Waterbury, Conn. — College Street Music Hall
4/17 – Buffalo, N.Y. — Rapids Theatre
4/19 – Bloomington, Ill. — The Castle Theatre
4/20 – Omaha, Neb. — Sokol Auditorium
4/22 – El Paso, Texas — Tricky Falls
4/23 – Tucson, Ariz. — The Rialto Theatre
4/25 – Austin, Texas — Emo's
4/26 – Houston, Texas — House of Blues
4/27 – Baton Rouge, La. — The Varsity Theatre
4/29 – Tampa, Fla. — WXTB Rockfest
4/30 – Ft. Myers, Fla. — Fort Rock
5/1 – Jacksonville, Fla. — Welcome To Rockville
5/2 – Birmingham, Ala. — Iron City
5/3 – Nashville, Tenn. — Marathon Music Works
5/4 – Knoxville, Tenn. — Tennessee Theater
5/7 – Charlotte, N.C. — Carolina Rebellion
5/8 – Baltimore, Md. — The Hippodrome
5/9 – Richmond, Va. — The National
5/11 – Louisville, Ky. — Mercury Ballroom
5/12 – Chattanooga, Tenn. — Track 29
5/13 – Atlanta, Ga. — Shaky Knees Festival
5/17 – Oklahoma City, Okla. — Diamond Ballroom
5/19 – Indianpolis, Ind. — Egyptian Room
5/20 – Grand Rapids, Mich. — The Orbit Room
5/22 – Albany, N.Y. — Rock'N Derby
[schema type="review" url="http://alterock.net/ghost-drop-trailer-to-support-grammy-nomination-announce-spring-us-tour/" name="GHOST Drop Trailer to Support Grammy Nomination, Announce Spring US Tour" description="Grammy nominees 2016, Ghost, have announced the dates for their Spring US Tour and proved with a new trailer they take their Grammy nomination with all seriousness." rev_body="Ghost, who recently got nominated for a Grammy Award in the category Best Metal Performance for their single 'Cirice', seem to take the nomination very seriously. They have put out a trailer, promoting themselves as Grammy nominees, saying "We are heard. Our hour has come." " author="Tatiana Vinichenko" pubdate="2016-01-15″ user_review="5″ min_review="1″ max_review="5″ ]