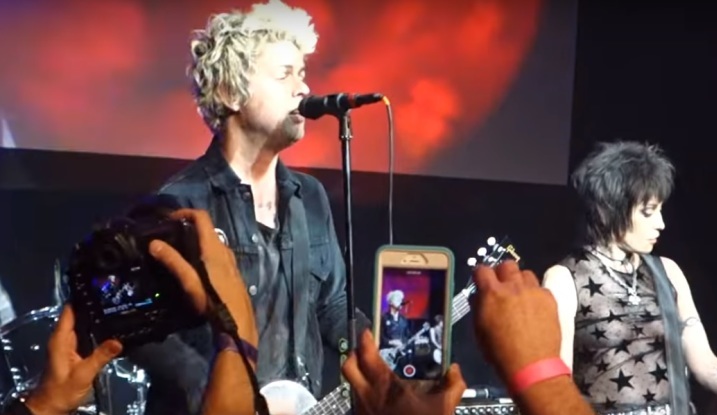 During 'Geezer' movie premiere Billie Joe and a special guest Joan Jett performed Green Day's hits
April 25, 2016
Green Day frontman Billie Joe Armstrong is starring in a big role in the upcoming movie Geezer. The film had a screening at the Tribeca Film Festival in New York and at the end of the event Green Day singer played a short set together with a guest guitarist, Joan Jett (watch the video below).
Armstrong and Jett were not the only ones onstage: guest musician Jesse Malin performed Mike Dirnt's bass duties, while drummer Tre Cool rocked the drums. Green Day most beloved hit 'American Idiot' started the show and smoothly blended into Jett's hit 'Bad Reputation', warmly welcomed by the audience. The other songs of the show were 'Devil's Kind,' 'Scattered' and 'Ordinary World'.
In Geezer movie Armstrong plays a former punk band frontman having a hard time trying to adapt to living in the real world many years after his band split. The film also stars Selma Blair, Judy Green, Fred Armisen and Chris Messina. Armstrong is also the author of several tracks featured in the movie.
Watch the video of the blend of 'American Idiot' and 'Bad Reputation' below, leave us your comments below and stay tuned with Alterock Facebook and Twitter to never miss on the news about your favorite alternative music!