"It got a little scary tonight," Paramore singer admitted during the show
The remainder of Paramore's North American tour This Is Why has been cancelled altogether. The band's singer Hayley Williams broke the news in her Instagram story. She wrote she was "not healing quickly enough to keep up", and with shows after show every night her health situation was only deteriorating.
At first, Paramore just postponed four shows to give Williams time to recover from the lung infection she suffered. Now, the band has cancelled the remaining nights of their US tour, including shows in Portland and Salt Lake City.
The frontwoman told her fans on Instagram:
Williams adds she's done everything in her power "to fight this infection so we wouldn't have to disappoint anyone with more news of postponements and cancellations," but keeping this pace was, obviously, dangerous for her lung recovery.
"We are so sorry to all of you who were so patient with us as we rescheduled these and likely rearranged travel plans to still come out. I physically can not go on," the singer wrote on Instagram on Thursday. "I know this isn't great news for anyone. Thank you so much for your continued support."
Take a look at Paramore's official statement below: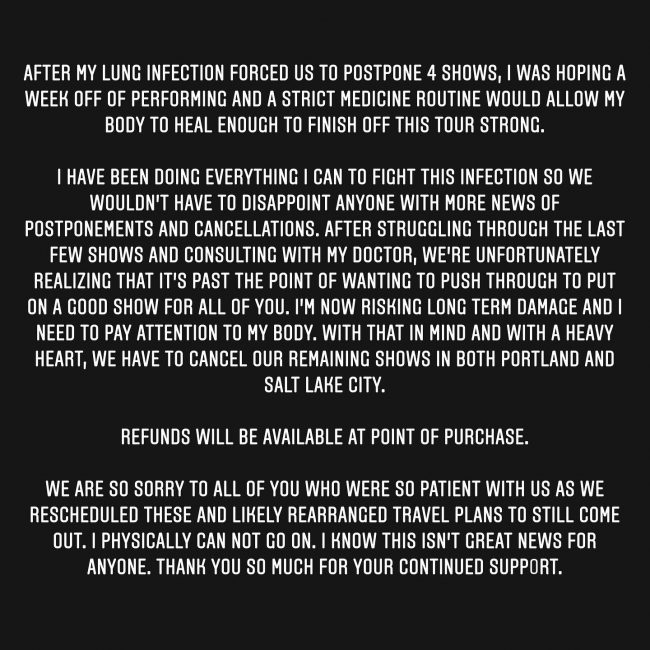 Featured photo credit: Audacy
Don't miss out on the news about your favorite rock bands – join us on AlteRock Facebook and AlteRock Twitter!