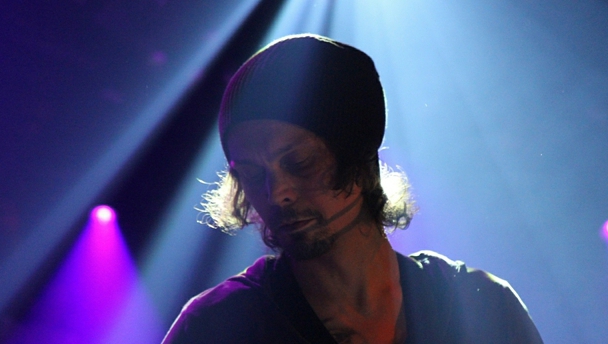 HIM singer introduced his solo project during Helldone Festival on December 29 in Helsinki
January 12, 2015
No no, not the Rambo you have just thought of (although it would have been hilarious to see Ville Valo impersonate Silvester Stallone's hero), but Rambo Rimbaud – that's the name of the solo project HIM singer introduced during Helldone Festival on December 29 in Helsinki, Finland.
In a rock-driven country which Finland truly is, it is quite a surprise that Ville Valo's recent live performance as a solo project Rambo Rimbaud hasn't been covered all over in the media much until yesterday, when it surfaced on the American metal web-source Blabbermouth. The latter also published some important details about the project, not confirmed by any other source. But here's what we know for sure so far about the mysterious artist Rambo Rimbaud.
It's HIM tradition to own the main metal stage of the country on the last few days before the New Year. This time the band has altered the tradition a little: in addition to Helldone's steady headliner HIM, Ville Valo could be seen signing alone with an acoustic guitar in his hands under the name Rambo Rimbaud on the first night of the Helldone festival on December 29, 2014 at Tavastia in Helsinki, Finland. Watch fan-filmed live footage of the Valo's solo project below.
Rambo Rimbaud music is described as "hard to put a finger on", but definitely "out of this world, emotional and very powerful". The live set was short, with only two songs: the cover version of  Tim Buckley's "Song To The Siren" and Black Sabbath "Solitude". The songs came out so powerful that they could potentially end up on the project's debut record, which Valo is working on, according to Blabbermouth. The authoritative website also wrote that the debut Rambo Rimbaud studio work would be titled Militantly Violent Libertine. Whatever this combination of words may stand for. The Helldone blogger put down his impressions of the unexpected Valo's cover songs like this: "The covers are very melancholic, and his voice is very intense yet delicate, it gets straight into the soul, leaving all of us eagerly waiting to hear more of this exciting new project".

It's not clear yet if the information about the studio work shall be trusted but let's just say, with the little songwriting work (if any) that HIM did over the past 1,5 years Ville Valo obviously had some time to experiment with his guitar and come up with something new. Time will show if the live appearances of Rambo Rimbaud grow into something more "material".