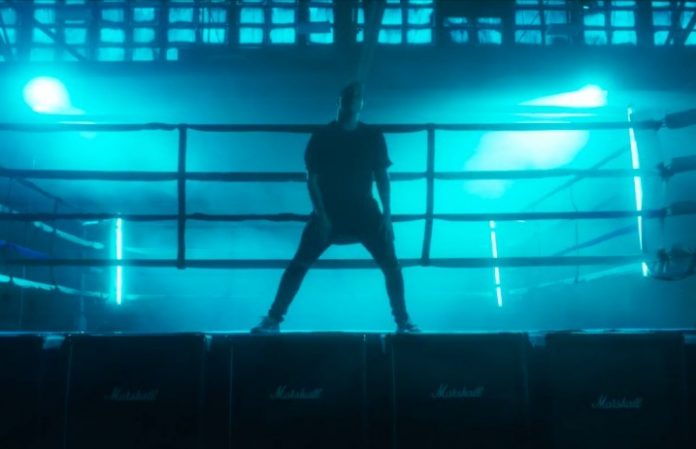 I PREVAIL's new boxing-themed music video for 'Lifelines' shows "there is no such thing as a 'bad kid'"
August 21, 2017
We write that this or that band "has unleashed" a new music video pretty often, but this time we literally mean it. I Prevail's new boxing-themed, powerful video for 'Lifelines' keeps you glued to the screen from the first seconds and is so charged with raw energy that Sweden's favorites Dead By April come to mind. Push-ups, a skipping workout, press and discipline exercises and tons of patience build up to a strong visual, which suits the song perfectly.
The band says that the message of 'Lifelines' is making life choices, learning to respond to "amazing opportunity or painful loss". It's not about what comes your way but how you react to it and how you learn to live with it:
[quote align="center" color="#COLOR_CODE"]"We set out to create something that embodied what 'Lifelines' as a song and as an album really meant to us. It centers around the harsh reality that life doesn't care about what you have planned. The biggest moments, whether ones of amazing opportunity or painful loss, are coming no matter what. How you choose to respond makes you who you are," explains singer Brian Burkheiser.[/quote]


Watch: DANGERKIDS share catchy music video for 'Kill Everything'
'Lifelines' is the title track from I Prevail's latest record, released last October. The music video was recorded in Detroit at the Downtown Boxing Gym Youth Program, aimed at helping at-risk youth with educational tutoring and discipline (via AltPress). Watch the engaging clip below!
The band was truly impressed with what they got to see at this high-discipline youth program: "Coach Khali and his team are straight up HEROES, changing the lives of young people in Detroit, a place where it is greatly needed," says Burkheiser.
"They bring kids in from the Public School system and provide a safe environment with a focus on education first, using the self discipline of reading books together with the camaraderie that a sport like boxing. They build bodies and minds with an eye to the making of future leaders. There is no such thing as a "bad kid" to this organization. To see the positive impact this is having first hand was truly inspiring and something we couldn't be happier to support. They are truly making positive lifelines and we are honored to have worked with them in their home base."
Excited to catch the band live? So are we! At the end of September, I Prevail are jumping on a huge Rage On The Stage tour in the US with support coming from the Word Alive, We Came As Romans and Escape The Fate. The extensive American tour run will last all the way till December 12. Are they coming to your town? Check out the tour dates below and let us know which show you're coming to and which songs of Lifelines you hope to hear live!
'Rage On The Stage' Tour Dates:
9/20 – Diamond Ballroom – Oklahoma City, OK
9/21 – Sokol Auditorium – Omaha, NE
9/22 – High Elevation Fest – Denver, CO
9/25 – Roseland Theatre – Portland, OR
9/26 – Knitting Factory – Spokane, WA
9/27 – Knitting Factory – Boise, ID
9/29 – Showbox SoDo – Seattle, WA
10/1 – MacEwan Hall – Edmonton, AB
10/2 – Shaw Conference Center – Detroit, MI
10/3 – O'Briens – Saskatoon, SK
10/6 – Sandlot Entertainment Complex – Green Bay, WI
10/7 – Myth – St. Paul, MN
10/9 – Concord Music Hal- Chicago, IL
10/10 – Turner Hall – Milwaukee, WI
10/14 – The Agora – Cleveland, OH
10/15 – Danforth Music Hall – Toronto, ON
10/16 – Rapids Theatre, Niagra Falls, NY
10/17 – M Telus – Montreal, QC
10/19 – Starland Ballroom – Sayreville, NJ
10/20 – The Palladium – Worcester, MA
10/21 – Webster Theater – Hartford, CT
10/23 – Rams Head – Baltimore, MD
10/24 – Electric Factory – Philadelphia, PA
10/25 – Playstation Theater – NYC, NY
10/27 – NorVa – Norfolk, VA
10/28 – Sherman Theater – Stroudsburg, PA
10/30 – Marathon Music Works – Nashville, TN
10/31 – Variety Playhouse – Atlanta, GA
11/1 – Neighborhood Theater – Charlotte, NC
11/4 – Plaza Live – Orlando, FL
11/5 – The Ritz Ybor – Tampa, FL
11/7 – Warehouse Live – Houston, TX
11/8 – Bomb Factory – Dallas, TX
11/9 – Vibes Event Center – San Antonio, TX
11/10 – Tricky Falls – El Paso, TX
11/12 – Novo – Los Angeles, CA
11/13 – Regency – San Francisco, CA
11/15 – Brooklyn Bowl – Las Vegas, NV
11/16 – SOMA – San Diego, CA
11/17 – Marquee Theater – Tempe, AZ
11/19 – The Complex – Salt Lake City, UT
11/21 – The Truman – Kansas City, MO
11/24 – The Masonic Cathedral – Detroit, MI
11/26 – The Intersection – Grand Rapids, MI
11/28 – Stage AE – Pittsburgh, PA
11/29 – Newport Music Hall – Columbus, OH
12/1 – Cotillion – Wichita, KS
12/2 – 7 Flags – Des Moines, IA
What do you think of I Prevail's new boxing-themed music video? Be the first to leave your comments and stay tuned with AlteRock Facebook and Twitter to never miss on the news about your favorite alternative music!