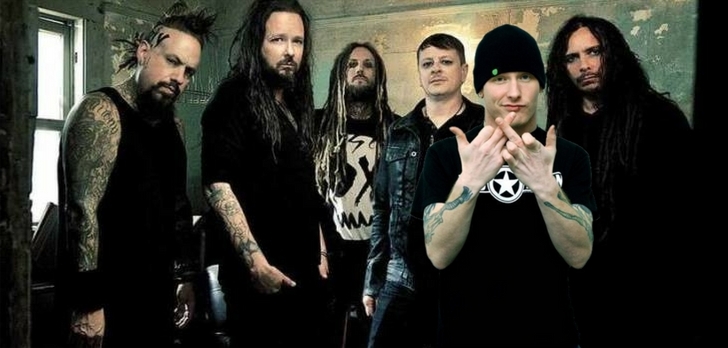 The result of the collaboration is the new in-your-face song, 'A Different World' – listen
September 29, 2016
It's always a pleasure to witness an impressive music collaboration of solid rock acts. This time it's Korn inviting Slipknot's Corey Taylor to record guest vocals for their new song, 'A Different World,' landing on Korn's upcoming album. The new LP, The Serenity Of Suffering, is scheduled for release October 12 via Roadrunner Records.
More: Another KORN Fan Proposes to His Girlfriend During Meet-and-Greet
[quote align="center" color="#COLOR_CODE"]"We were trying to figure out who we wanted to collaborate with, and I'm like, 'You know, that's the one, that's the guy,'" says Korn frontman Jonathan Davis. "And I texted him, I'm like, 'Do you want to be on a new Korn track?' He's all, 'Hell yeah! When and where, what do I do?' So he did great on the song."[/quote]
When Slipknot singer was offered to make a guest appearance on the song, he got on the plane the very next day, even though he hadn't even heard the music by then. Taylor has long been a Korn fan and Davis's good friend, and the two had been talking about the collaboration for years. "And all the stars aligned and I got to do this track," the Slipknot frontman says (via Blabbermouth).
It's even a bigger pleasure to hear Korn go back to their roots and take us back to their signiture 90-ies' sound. "On a heaviness scale of one to 10 with 10 being the 1994 self-titled, this album is a definite nine," says Korn guitarist James "Munky" Shaffer. Taylor has the same feeling about the song, saying "it is heavy, dude. It is so righteous. People are gonna lose their minds."
Watch: SLIPKNOT Frontman Suffers Hard Fall During Atlanta Show, Is Rushed Backstage
In a recent interview Shaffer added he believes 'A Different World' "is going to be a fan favourite because he [Corey] really lets loose" on the track. Listen to the new song below and tell us if you think the collaboration of the two powerhouses is going to become your favorite on Korn's new album.
Stay tuned with Alterock Facebook and Twitter to never miss on the news about your favorite alternative music!