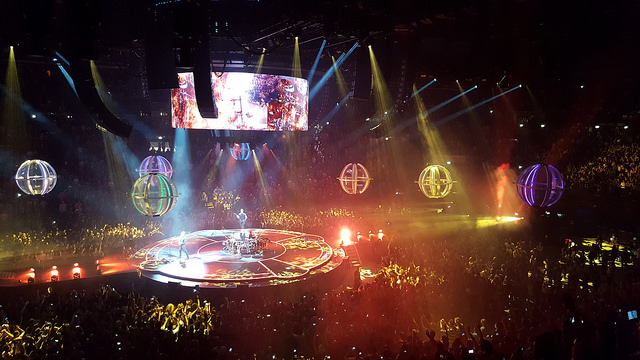 "It is ridiculous, but trying to dream up something more adventurous is always our challenge," says Muse tour director
October 25, 2016
If you're a true Muse fan, you've surely seen (live or at least on Youtube) their tour invention on Drones arena trek: the band performed "in the round" from the middle of the arenas, giving fans a unique chance to get a 360-degree experience of their favorite trio's show.
But Muse wouldn't be Muse if they lacked inspiration when it comes to new stage formats. According to Music Week, the band's tour director Glen Rowe has revealed that the group has grandiose, mind-blowing plans for their next world tour: the trio intends to 'levitate on magnets'.
Here is what Rowe said at the MUSEXPO conference when asked on the band's ideas for the new tour.
[quote align="center" color="#COLOR_CODE"]"It is ridiculous, but trying to dream up something more adventurous is always our challenge, where does the next bolt of lightning come where you capture the essence of it and trying to put it into a record or a tour, it's definitely my permanent challenge."[/quote]
[quote align="center" color="#COLOR_CODE"]"We want to do a stage made of magnets so the band can levitate on other magnets. It's those questions that keep me awake every night of my life. If there are any magnet technicians out there, please come and see me because that's what we're trying to achieve."[/quote]
Many of you might wonder: and what about the intimate club tour by fans' requests, which has been in talks, supported by an ongoing petition made by fans to convince Muse to make it happen? So far there hasn't been any confirmation or official comment from Matt Bellamy and Co. on that, but stay tuned with AlteRock for more updates.
What do you think of the band's plan to levitate on magnets? Share your thoughts in the comments, and join Alterock Facebook and Twitter to stay tuned for rock and metal news.