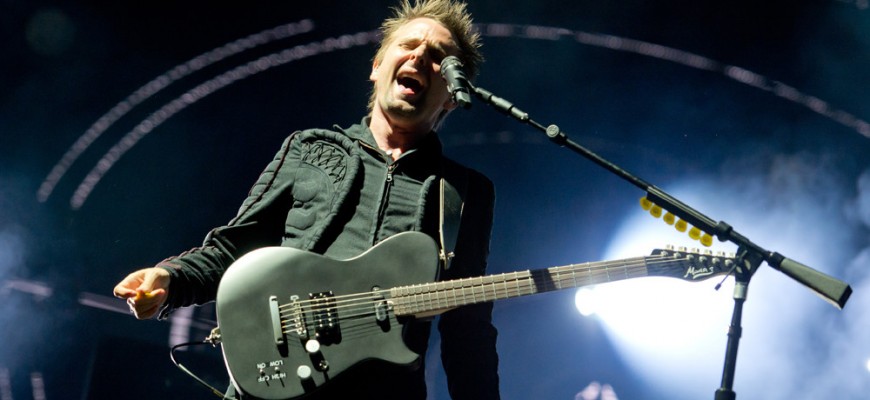 Matt Bellamy wants to make it up to fans who were disappointed by Montreux set, suggests a rarities tour
July 6, 2016
Muse have juse finished their grandiose arena tour around the globe and are currently busy with summer festival appearances, including their recent Glastonbury headlining set in the UK (June 24) and Montreux Jazz Festival in Switzerland (July 2). To the band's surprise, their choice of songs for the Montreux show left a lot of fans cold.
"Sorry but you just made me super super sad tonight with that setlist," tweeted one fan to Matt Bellamy after the show. "Matt u broke our hearts tonite and not in a good way. Too many fans to count that are devastated tonite! Me included," picked up another one.
Bellamy didn't leave the disappointed fans without a response: he apologied for not having lived up to their expectations and asked how he could make it up to them. "We'll do a rarities tour maybe? Or like by request type thing," the singer tweeted back to his saddened fans. "I feel like having the fans choose what to play would be unique?" he added a bit later.
More: MUSE's Audience Doubles During Glastonbury BBC Live Stream – Read here
The fans immediately supported the idea of a by request tour and even launched a petition to support it. The only thing that bothers the frontman is that when Muse play certain rarities in really big shows, it "seems to fall flat". He concluded that an intimate club tour would be a better idea than another leg of stadium shows.
"I like this idea, just need to work out how best to do it," tweeted the singer. Let's hope the idea does not sink into the routine of Muse summer touring and in-between-the-tour rut.
At Montreaux show Muse performed various rarities including 'Agitated', 'Hyper Music', 'Fury', 'The Groove', 'Butterflies & Hurricanes', 'Futurism' and 'Micro Cuts' and offered some other tour debuts encore, such as Tom Waits' 'What's He Building?' and rarely played now 'Panic Station'.
Check out the full stream of tweets below. Are you excited about the possibility of the by request club tour? Which Muse songs would you personally want to land on the setlist?
Be the first to leave your comments, share the article, and stay tuned with Alterock Facebook and Twitter to never miss on the news about your favorite alternative music!
How can I make it up..?? Didn't we do rarities stuff on UK club tour last year? https://t.co/YLjHkFfifn

— Matt Bellamy (@MattBellamy) July 2, 2016
Sorry, didn't realise so much love for The Groove. We'll do a rarities tour maybe ? Or like by request type thing https://t.co/sKanGqB43y

— Matt Bellamy (@MattBellamy) July 2, 2016
When we play certain rarities in really big shows, seems to fall flat (US or otherwise). I think club setting best? https://t.co/JgtFz8APIQ

— Matt Bellamy (@MattBellamy) July 2, 2016
I like this idea, just need to work out how best to do it. https://t.co/TXHwLk2ZTq

— Matt Bellamy (@MattBellamy) July 2, 2016