The other highlights of the 25th anniversary Õllesummer will be legendary Pet Shop Boys and DJ Armin Van Buuren
June 10, 2018
Scottish dance punk-rockers Franz Ferdinand are going to light up the never-darkening Estonian white nights' sky, closing the first day of Õllesummer 2018. The anniversary 25th festival runs July 4-6 and presents a perfect opportunity to hear their favorites' fifth album live.
Franz Ferdinand released their new album, Always Ascending, on Feb 9, and showcased it with a five-song mini-set this past Tuesday on Jimmy Kimmel Live (watch the performance below). On-air the band performed the latest single 'Glimpse of Love,' featured on the new album. The set off-air included three songs from Always Ascending – 'Finally,' 'Lois Lane' and 'Paper Cages' as well as an older piece, 'Darts of Pleasure' from the band's self-titled record back in 2003 (via Rolling Stone).
The British rockers have also recently shared a music video for 'Glimpse of Love'. In the video, singer Alex Kapranos and his bandmates pose for a goofy photoshoot, do ridiculous dance moves and simply fool around at a country house.
The frontman points out that they tried to avoid using the term "single" for 'Glimpse of Love' before they got the audience feedback.
"We had this rule, actually, when we were making this record," Kapranos told Rolling Stone, "that nobody would mention singles, that you wouldn't talk about singles, because as [producer] Philippe [Zdar] puts it, 'All the other songs become jealous if you say what the single is.' Which is such a good attitude, and so to choose a single, what we do is really play the record to our friends or our family and the ones they respond to … it kind of becomes obvious at that point that people like that song."
The lineup of Õllesummer 2018 has way more to offer than just Franz Ferdinand, though. The headliner of the second festival day is the highly on-demand Dutch DJ Armin Van Buuren. He is well-known also among rock fans for his hit collaboration with Within Temptation's Sharon den Adel on 'In and Out of Love' (below).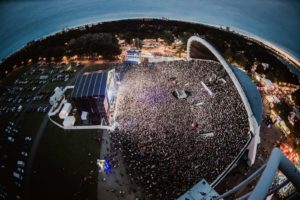 The third day, June 6, will see the legendary British synth-pop duo Pet Shop Boys, whose undying hit 'It's a Sin' has been covered hundreds of times and still lights the fire in many of us.
Apart from the UK acts about to heat up the cool Estonian summer, dozens of domestic bands will take the stages of Õllesummer. Among them are Estonia's rock veterans Smilers, Terminaator and Shanon, an up-and-rising soft rock act Põhja Konn and more.
A soulful part of the Õllesummer festival will be the tribute sets to Annie Lennox and Frank Sinatra. And what a present from Estonian jazz diva Sofia Rubina, who has prepared an unusual live program, One Hit Wonders. If you're excited to see all those acts live, go here for tickets or check out the full lineup at this location.
Don't miss the latest news about your favorite bands with AlteRock website and join AlteRock Facebook and Twitter to stay tuned for rock and metal news.
https://youtu.be/OnOrh2SrCw0