This spring Finnish rockers are embarking on a European tour in support of the new album
Having become the second most successful Finnish band after their 6th spot in Eurovision Song Contest 2021, Blind Channel kept fans and media all in wait for their next record. The waiting is now over! The band has just announced their fourth album, titled Lifestyles of the Sick & Dangerous.
The modern metal band, consisting of Joel Hokka (vocals), Niko Moilanen (vocals), Joonas Porko (guitar), Olli Matela (bass), Tommi Lalli (drums) and Aleksi Kaunisvesi (samples), says the past two years were the hardest but at the same time most eventful and unforgettable:
"This album is a memento of the toughest, yet the best couple of years in our lives. We captured the ups and downs, ranging from the point of breaking down to finally blowing up. We wouldn't change a note. Come witness the Lifestyles of the Sick & Dangerous."
Blind Channel's new studio album features their latest singles 'Dark Side', 'Balboa' and 'We Are No Saints'. In fact, the title of the record is a line from the lyrics of their Eurovision hit 'Dark Side':
Don't waste your prayers, they can't save us
Lifestyles of the sick and dangerous
At the same time, it's an allusion to Good Charlotte's track 'Lifestyles of the Rich & Famous'. The new Blind Channel album will be also released on CD and vinyl. You can preorder it at this location and check out the album tracklist below.
On April 19 Finnish rockers are embarking on a European tour, opening for Eskimo Callboy. The tour leg kicks off in Antwerp, Belgium and rounds off on May 27 in Cologne, Germany. After a short three-month rest Blind Channel will set out on a headlining tour, which will run well into mid-October. See the full list of tour dates below and tell us which show you're going to.
Don't miss out on the news about your favorite rock bands — join us on AlteRock Facebook and AlteRock Twitter!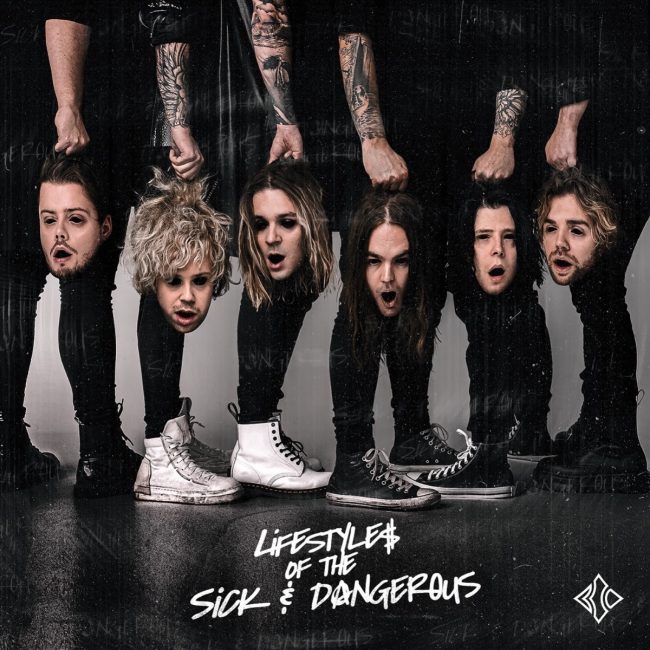 Lifestyles of the Sick & Dangerous Tracklist:
Opinions
Dark Side
Don't Fix Me
Bad Idea
Alive Or Only Burning
Balboa
National Heroes
We Are No Saints
Autopsy
Glory For The Greedy
Thank You For The Pain
Blind Channel European Tour (guests for Eskimo Callboy):
19.04.2022 Antwerp, Trix
20.04.2022 Antwerp, Trix
21.04.2022 London, Electric Ballroom
24.04.2022 Vienna, Arena
25.04.2022 Munich, Zenith
27.04.2022 Budapest, Barba Negra
28.04.2022 Prague, Roxy
29.04.2022 Krakow, Hype Park
01.05.2022 Graz, Orpheum
06.05.2022 Emma Gaala, Helsinki (Finnish Grammy Awards)
08.05.2022 Hamburg, Edel Optics Arena
09.05.2022 Leipzig, Haus Auensee
10.05.2022 Dresden, Schlachthof
12.05.2022 Rostock, Moya
13.05.2022 Kiel, Max Nachttheater
14.05.2022 Hanover, Swiss Life Hall
16.05.2022 Ludwigsburg, MHP Arena
18.05.2022 Milan, Legend Club
19.05.2022 Pratteln, Z7
20.05.2022 Lindau, Club Vaudeville
22.05.2022 Amsterdam, Melkweg
24.05.2022 Offenbach, Stadthalle
26.05.2022 Berlin, Columbiahalle
27.05.2022 Cologne, Palladium
Blind Channel Headline European Tour:
31.08.2022 Hamburg, Knust
01.09.2022 Berlin, SO36
03.09.2022 Dresden, Strasse E
04.09.2022 Nuremberg, Hirsch
05.09.2022 Munich, Backstage Halle
06.09.2022 Stuttgart, Wizemann Club
07.09.2022 Saarbrucken, Garage
08.09.2022 Frankfurt, Zoom
09.09.2022 Bochum, Zeche
11.09.2022 Cologne, Kantine
12.09.2022 Bristol, Thekla
13.09.2022 Glasgow, Cathouse
14.09.2022 Manchester, Rebellion
15.09.2022 London, 02 Academy Islington
16.09.2022 Nottingham, Rescue Rooms
17.09.2022 Birmingham, 02 Academy 3
19.09.2022 Antwerp, Kavka
20.09.2022 Tilburg, 013
21.09.2022 Paris, Backstage @ The Mill
23.09.2022 Madrid, Sala Caracol
24.09.2022 Barcelona, Sala Boveda
26.09.2022 Zurich, Plaza
27.09.2022 Milan, Legend Club
28.09.2022 Vienna, Chelsea
29.09.2022 Prague, Rock Cafe
30.09.2022 Krakow, Zascianek
01.10.2022 Warsaw, Hydrozagdka
07.10.2022 St Petersburg, Aurora
08.10.2022 Moscow, 1930 Club
Photo credit: Kiril Kainulainen