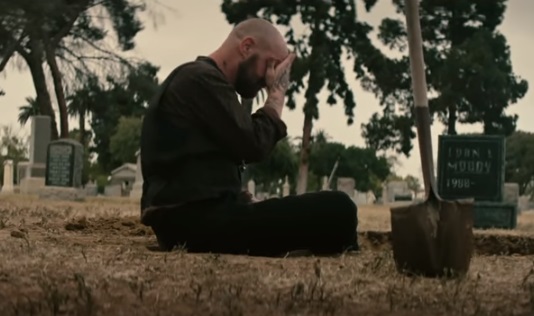 Ivan Moody digs his own grave and reappraises old values in the new music video — watch
July 23, 2016
Five Finger Death Punch keep unfolding their Got Your Six album: they have just released a music video for their track 'I Apologize'.
The video is a sincere message from frontman Ivan Moody, who recently started battling his addiction issues. In the clip, we find Moody in a cemetery, wandering with a shovel, as he sings the song. Along the way, he passes the tombstones for Jimi Hendrix, Scott Weiland, Kurt Cobain, Jim Morrison, Janis Joplin and other iconic music figures.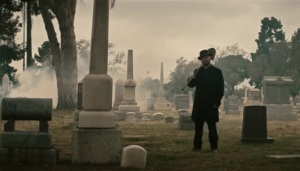 Eventually, Moody stops to dig his own grave. He even puts a headstone on top of it. What did he write on his own headstone? Watch the video below to find out.
'I Apologize' video shooting took place at Angelus Rosedale Cemetery in Los Angeles. The director of the clip is Nathan Cox, an MTV-awarded music video director, whose previous works include Linkin Park's 'In the End' 'Papercut', Disturbed's 'Stricken' and 'Inside the Fire', Static-X's 'Cold' and Marilyn Manson's 'Personal Jesus', among the others.
"The video is a dark somber metaphor that speaks for itself,» the band states in the official comment on the music video. «It's real for everybody. We have even been losing exceptionally bright, talented people who you'd assume know better. No matter how much support you provide, ultimately it's everyone's own decision to face their demons or perish."
FFDP have already announced working on their next album, but there's still a lot of touring in support of the current Got Your Six album ahead: from a co-headlining tour with Papa Roach this fall to another one with Shinedown, later in the year. The band will donate some of the money from the tickets to a Wildfire Relief charity. Fans also have a chance to win VIP tickets and a meet and greet with the FFDP members by donating an additional $5, when purchasing a ticket.