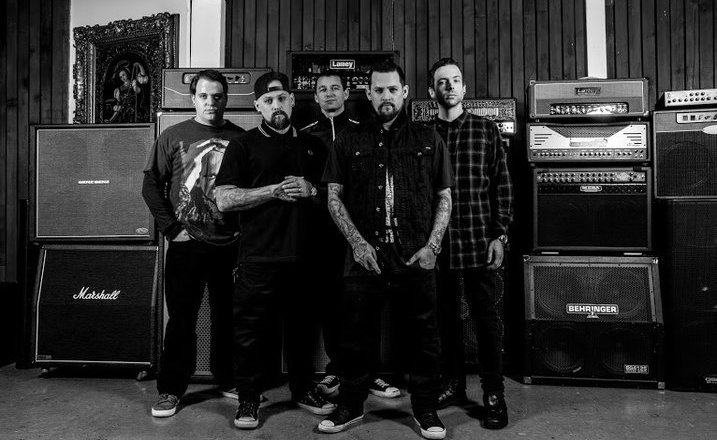 Good Charlotte have premiered a new single, '40 Oz. Dream', from their upcoming album Youth Authority
April 5, 2016
Good Charlotte are preparing to release their comeback album, Youth Authority, this summer and here is the first single from it, titled '40 Oz. Dream'. The brand new song premiered on Apple Beats 1 radio. The band has also posted an accompanying lyric video for the single via Rolling Stone, which you can watch below. The nostalgic video was directed by Benji and Joel Madden's brother Josh. To create the video, the band collaborated with artist Brian Montuori, who specializes in eye-popping collage art.
I ran outside to see it's not 2003
Turned on the radio, it's so confusing,
…Joel Madden sings in '40 Oz. Dream'. The song goes on with nostalgic lyrics and longing for what punk-rock lifestyle used to be about.  «For us '40 Oz. Dream' was the perfect song to kick off our new album,» guitarist Benji Madden told Rolling Stone. «It's got all the sarcasm and humor we've always loved, and lots of affection for the past and present. As a band that formed in 1996, it's a fun moment to be welcomed back so warmly. We're very happy to have found our place in 2016.»
Good Charlotte's comeback album, Youth Authority, is set for release June 15 on Madden brothers' label MDDN. The following month the rockers will hit the road for a run of festival dates within the bounds of the Vans Warped Tour.
In two weeks, Good Charlotte will set off for a row of shows on the east coast of the US. You can see the list of tour dates below.
Check out the lyric video for '40 Oz. Dream' below. Do you like Good Charlotte's first single from the comeback album?
Good Charlotte April 2016 US Dates:
Mon 4/18 Philadelphia, PA @ Theatre of The Living Arts
Wed 4/20 Washington DC @ 930 Club
Thurs 4/21 New York, NY @ Webster Hall
Fri 4/22 Boston, MA @ Paradise Rock Club
Sat 4/30 Dallas, TX @ KDGE Edgefest
Vans Warped Tour 2016 Dates:
Tue 7/19 Noblesville, IN @ Klipsch Music Center
Wed 7/20 Cuyahoga Falls, OH @ Blossom Music Center
Thu 7/21 Cincinnati, OH @ Riverbend Music Center
Fri 7/22 Auburn Hills, MI @ The Palace of Auburn Hills
Sat 7/23 Tinley Park, IL @ Hollywood Casino Amphitheatre
Sun 7/24 Shakopee, MN @ Canterbury Park
Tue 7/26 Milwaukee, WI @ Henry Maier Festival Park
Wed 7/27 Maryland Heights, MO @ Hollywood Casino Amphitheatre
Thu 7/28 Kansas City, KS @ Providence Medical Center Amphitheater