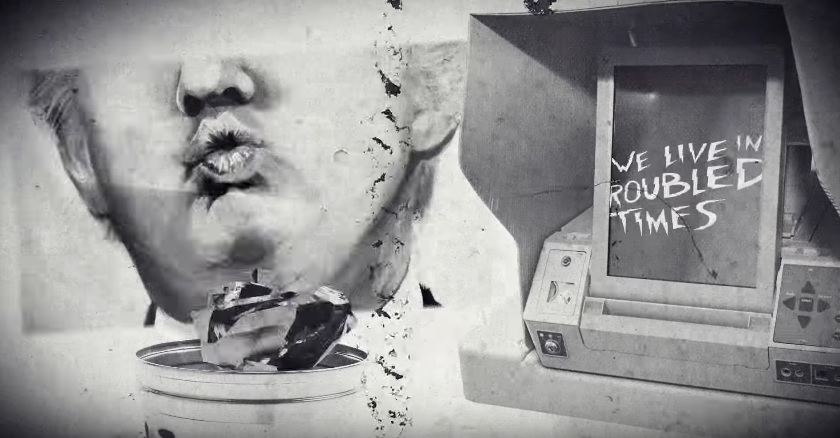 The band chose Martin Luther King Day to present their new politically sharp lyric video
January 16, 2017
«What part of history we learned
When it's repeated?»
…wonder Billie Joe Armstrong and co. in their new single 'Troubled Times', and today they have launched the lyric video for this politically charged track. Check it out below.
In the clip, unveiled on the symbolic Martin Luther King Day, the band aren't looking for metaphoric visuals and allegories. Instead, they «set» Donald Trump's hair on fire and expose the ignorance of people voting for him. On the opposite end of the line, we see the pictures of Martin Luther King, numerous protests and important grassroots' movements, striving for peace and equality.
More: GREEN DAY open European tour, cover George Michael's 'Careless Whisper'
The song is taken from Revolution Radio, Green Day's twelfth studio album, which dropped last October. Commenting on Trump's shocking victory in the presidential election, the band's frontman said it felt like "a death in the family" and openly stated his opinion that the country needs to take «drastic" measures to remove Trump from office.
"Nobody thought Trump would win and that's why everybody is scared out of their minds,» Armstrong told NME recently. «Already, you are starting to see demonstrations. for example there were 100,000 people in New York and there's a lot more to come. I hope that continues.»
"I think a lot of people are grieving, it's like there has been a death in the family. That's what's going on. So I know it's really hard to laugh while you're scared – that's what comedians say, so most people are scared. When the smoke begins to clear, you'll see creative people speaking out."
In spring 2017, Green Day will embark on the Revolution Radio North American tour, accompanied by Against Me! as support. The trek starts on March 1 with a show in Phoenix, AZ and run through April 8.
Watch: GREEN DAY Perform 'Bang, Bang' on Tonight Show Starring Jimmy Fallon
Be sure to check out the sharp lyric video and enjoy 'Troubled Times' lyrics in full below. Do you like how the song's lyrics were transformed into the visuals?
What good is love and peace on earth?
When it's exclusive?
Where's the truth in the written word?
If no one reads it
A new day dawning
Comes without warning
So don't blink twice
We live in troubled times
We live in troubled times
What part of history we learned
When it's repeated
Some things will never overcome
If we don't seek it
The world stops turning
Paradise burning
So don't think twice
We live in troubled times
We live in troubled times
We live in troubled times
We run for cover
Like a skyscraper's falling down
Then I wander like a troubled mind
What good is love and peace on earth?
When it's exclusive
Where's the truth in the written word?
If no one reads it
A new day dawning
Comes without warning
So don't look twice
We live in troubled times