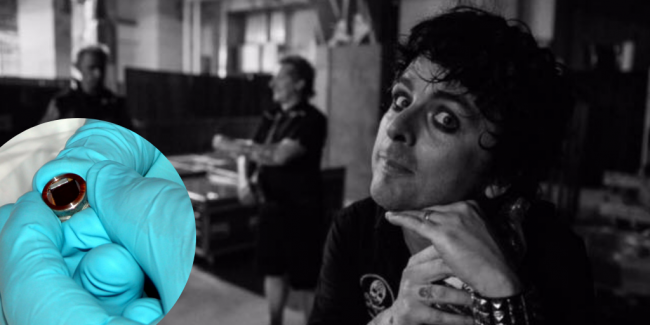 The band's name and date of origin are now engraved on Mars, over 33 million miles away
November 28, 2018
Green Day have always managed to be ahead of their colleagues on the music scene. Now they're not just «ahead» — they're 2000 light years ahead! The band's inscription has successfully landed on the red planet via NASA's InSight Lander!
The custom inscription «Green Day Since 1986» was etched onto a chip inside the Mars robotic lander, designed to study the deep interior of the planet Mars. It touched down on Elysium Planitia plain on Monday, reports Billboard, as well as the band's Twitter page.
Why 1986? Because that was the year the American group began playing live (we mean three years before their debut EP came out). Except, back then they weren't Green Day. The band's name was Sweet Children back then.
Billie Joe Armstrong and Co. posted the following tweet after this grandiose happening: «Officially landed on Mars. «Green Day Since 1986» was etched on a chip on the @NASAInSight Mars Lander that landed at Elysium Planitia today. Out of this world.»
Interestingly, Billboard also reported they couldn't reach a NASA representative for ask for some details, writes Alternative Press. But let's wait for an extended explanation from the band themselves. After all, it's once in a blue moon that a musician's name gets to be engraved on a planet 2000 light years (over 33 million miles) away from us…
Do you like what we're doing? If so, help us grow by sharing the article – this way we can keep providing you latest news and fun interviews with your favorite bands! Stay tuned with AlteRock Facebook and Twitter to never miss on the news about your favorite alternative music!
Officially landed on Mars «Green Day Since 1986» was etched on a chip on the @NASAInSight Mars Lander that landed at Elysium Planitia today. Out of this world. pic.twitter.com/WwNEKh4nxE

— Green Day (@GreenDay) November 26, 2018