European viewers wanted fun and fire, and they got both: Måneskin have won the 65th Eurovision Song Contest, bringing Italy the third victory
The Grand Final of Eurovision Song Contest 2021 took place in Rotterdam, The Netherlands this past Saturday, May 22. In one of the most exciting editions in Eurovision history, 26 countries were fighting for the trophy. But no one stood out more prominently than glam rockers Måneskin from Italy, who got a whooping 380 points from the public!
Måneskin travelled to the land of tulips and brought the house down with the Italian language song 'Zitti e buoni', which stands for 'Shut Up And Be Quiet'. It's only the third time Italy ever wins Eurovision. The country's previous victory was 31 years ago with the uniting song «Insieme: 1992» by Toto Cutugno.
The rock band's triumphal rise to success started when Måneskin won Sanremo in Italy on 6 March with an impressive 53.53% of televotes. After the first rehearsals Italy jumped onto the top of bookmakers' chart. People got more and more convinced the rockers were in for the win. Check out Måneskin's Final live performance below:
Interestingly, Italy won by a small margin of 25 points to France's Barbara Pravi, with her emotional 'Voila'. Italy wasn't the only appreciated rock act in the contest. Their main rivals, Blind Channel from Finland, proved the era of nu-metal wasn't over. Reminding of both Linkin Park and Bring Me The Horizon, these guys landed in Top 10 and secured #7, thanks to massive televote.
Blind Channel, who we interviewed both before and after the Eurovision Semi-Final, first crowned their country's national selection UMK 2021 with the song 'Dark Side' and got the right to represent Finland in Rotterdam. You can see the full results and points of Eurovision 2021 on at this location.
And most recently, the «inevitable» happened. The two rock bands met after the Eurovision Grand Final to share their first impressions about each other's music and possibly pre-agree on a future collaboration, as Blind Channel are recording their new album at the moment, the follow-up to Violent Pop (2020). Check out the footage of the epic meeting right here:
The winning country, by the rule, hosts next year's Eurovision contest. This means, in 2022 we are all flying to picturesque Italy to bring its tourism back from its knees, following turbulent coronavirus-driven times.
Do you want quality music news and interviews? Be sure to join us on AlteRock Facebook and AlteRock Twitter!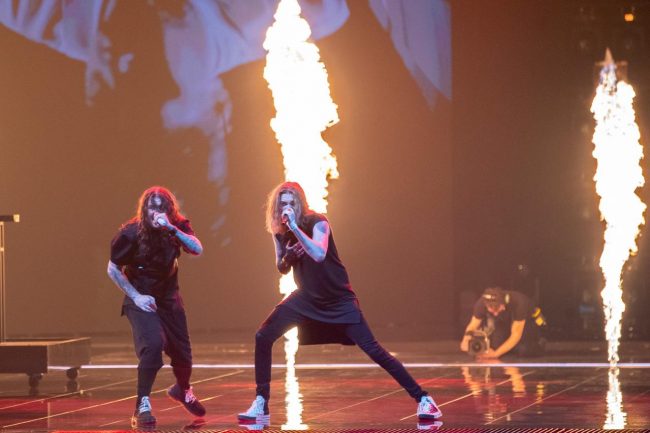 Photo credit: Måneskin have won the Eurovision Song Contest 2021  PHOTO: EBU / ANDRES PUTTING; Blind Channel — Finland — Second Rehearsal — Eurovision Song Contest 2021 — Rotterdam Ahoy — EBU / ANDRES PUTTING