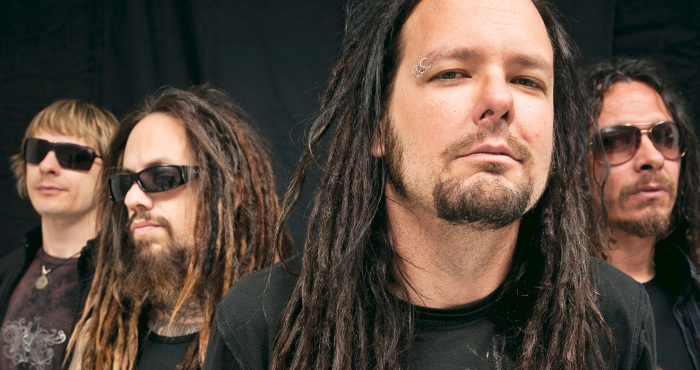 «Hell's coming with us!» — Korn joins Slipknot to hit the road and reveals a personal touch to their show
October 30, 2014
Korn have launched the joint tour Prepare For Hell with Slipknot in the US, from where they will later fly to the UK and Ireland for the European part of the tour. It's been 20 years of career for Korn with 10 albums they've recorded so far, and now to celebrate their 20th anniversary they have set off with metal-idols Slipknot for a long trip with Prepare For Hell tour.
Korn will be an opening act for Slipknot but this isn't the first time two bands are collaborating and sharing the stage: "We've played with Slipknot before,» says Jonathan Davis to Alternative Press, "but we've never done a tour with them. They're a really good band. I love their whole vibe. Those guys are all fucking crazy – like certifiable crazy. The topic is not the easy one to raise, but They're a really good band. I love their whole vibe. Those guys are all fucking crazy–like certifiable crazy. I'm really excited. It's going to be a cool-ass show. It's two different worlds, really".
The tour has a special meaning for Korn, because they are going to play the songs they have never done before. Such as a personal song " Daddy" from the debut self-titled album, which has only been played live twice earlier. Davis wrote "Daddy" at the very beginning of their music path. It addresses the frontman's painful experience of being sexually abused by a family friend and having failed to convince his parents it had happened. But however heavy the lyrical content is for Davis, he feels the urge to do it for Korn fans, who have supported them throughout all these years. "It's going to be a bit bittersweet because, for one, it was our first record", admits Davis. "We had a blast making it and we were on top of the world. The bitter part of it; we were all so fucked up. I think what it will do is remind us of how fucked up we were, but also remind us how much fun we had. I think it'll be really special for all the fans who were there in 1994 and bought that album and listened to it young, and have listened to that record for 20 years".
Davis has always been honest in his lyrics about what was eating him from the inside and did it emotionally and uncompromisingly. During the recording of the song back two decades ago Jonathan couldn't help crying at the end of it. «I was just doing what I felt was right», he says the documentary «Heavy Metal: Larger Than Life». This openness and sincerety helped the band find its unique style in metal but because of dramatic lyrics the band has only dared to play this song live twice throughout Korn's whole career. And now the frontman says he is ready to face old traumatic memories not worrying of being too emotional on stage. The song will not appear in regular club set-lists though, it will be performed in front of stadium audiences: "It's been 20 years. I've come to grips with what's happened to me, and everything else. You know what? Fuck it! I'm going to play it. I'm a lot more mature than I was doing that record in the beginning."
Jonathan Davis is a father himself and appears to be a "liberal" one: he even lets his kids jam on stage at summer festivals. The artist warns other rock-stars-to-be, though: "Once you have kids and a family it's tough. Nobody likes watching their kids cry, knowing you're not going to see them for a month. That just fucking sucks…They make me feel like shit! "Dad, you've got to go? You need to stay here and have a job here." They do all kinds of shit and I say, "Boys, I've got to go on the road. When you don't have school, you get to come out during the summer." So that's our special time". Davis says he will bring his kids on stage again next summer so that he wouldn't part with them whenever there is a possibility to spend time together.
The series of gigs kicked off October 25 in San Bernadino, California and will round off with an arena show on December 13 in Boston. After that the bands are heading for a series of gigs in the UK and Ireland.
The "bosses" of the tour Slipknot have just released the album "The Gray Chapter", which saw the light on October 21. It's the band's first full-fledged recording since the death of Slipknot's bassist Paul Gray in 2010. The band is excited about the entire happening and promises a lot of dark fun: "Slipknot is coming to your town. And hell's coming with us.»
Prepare for Hell Tour US dates
Oct. 25 – San Bernardino, CA – Knotfest
Oct. 26 – San Bernardino, CA – Knotfest
Oct. 29 – El Paso, TX – Paso County Coliseum
Oct. 31 – Dallas, TX – Gexa Energy Pavilion
Nov. 1 – Corpus Christi, TX – American Bank Center
Nov. 2 – San Antonio, TX – AT&T Center
Nov. 4 – Little Rock, AR – Verizon Arena
Nov. 5 – Oklahoma City, OK – Chesapeake Energy Arena
Nov. 6 – Omaha, NE – CenturyLink Center
Nov. 8 – Madison, WI – Alliant Energy Center
Nov. 9 – Sioux Falls, SD – Denny Sanford Premiere Center
Nov. 11 – Denver, CO – Denver Coliseum
Nov. 19 – Baltimore, MD – Baltimore Arena
Nov. 21 – Nashville, TN – Bridgestone Arena
Nov. 22 – Lexington, KY – Rupp Arena
Nov. 23 – Ft. Wayne, IN – Allen County War Memorial Coliseum
Nov. 25 – Moline, IL – iWireless Center
Nov. 26 – Kansas City, MO – Sprint Center
Nov. 28 – Rosemont, IL – Allstate Arena
Nov. 29 – Detroit, MI – Palace of Auburn Hills
Nov. 30 – Toronto, ON – Air Canada Centre
Dec. 2 – Reading, PA – Santander Arena
Dec. 3 – Camden, NJ – Susquehanna Bank Center
Dec. 5 – Uncasville, CT – Mohegan Sun
Dec. 6 – East Rutherford, NJ – Izod Center
Dec. 7 – Boston, MA – Paul E. Tsongas Arena
Dec. 12 — Columbus, OH @ The LC Pavilion
Dec. 13 — Milwaukee, WI @ Eagles Ballroom
Prepare For Hell Tour UK dates
Jan 14: Dublin 3Arena
Jan 16: Sheffield Motorpoint Arena
Jan 18: Glasgow SSE Hydro
Jan 19: Newcastle Metro Radio Arena
Jan 20: Manchester Arena
Jan 22: Liverpool Echo Arena
Jan 23: London Wembley SSE Arena
Jan 24: Cardiff Motorpoint Arena
Jan 26: Nottingham Capital FM Arena
Jan 27: Birmingham Barclaycard Arena